Five years ago I changed my life, again.
I am one of the universe's lucky creatures; I have had both the challenge and opportunity to open many new chapters over the course of my life. From American child living in foreign lands, to quasi foreigner living in America, from adult child to young adult with children, from active addict to recovering addict, and from barely employable to over-employed and most recently from highly paid to richly paid; the look of my life and its purpose have changed radically over the years, each section unfolding from the last.
A recent chapter opened with the fear of relapse into my addictions. Enjoying an affluent life in an affluent community and working for a company that paid well, I was falling apart inside. At no point in my life had things looked so good. I had been poor, I had lived in chaos and danger, I had lived in fear of being unable to take care of my children, I had been desperate. None of those things were present and yet I felt a tremendous void in my emotions and my soul. I was bereft.
I then stepped on a yoga mat in a studio. This was a small studio in a strip mall, a dedicated room inside a Health Food Store. Six people could fit comfortably, but we squeezed in eight. I was the newest, uncomfortable and a little overwhelmed. Hips, hams and hands hurt - I was unsure I could continue, but it felt like something important was happening. This was different, this was a new kind of yoga to me. Not in front of the TV with a video, not looking at a book of poses, but in a studio, learning the basics of hatha yoga with a teacher. This was the beginning of a huge change for me. Being in the studio allowed for an exchange of energy (prana) in the practice between student and teacher, and among others in the room. I was in a community of people with similar intentions. I was in the hands of another. The care of the teacher, leading us through the foundations of poses, being available to answer questions and offer support, made all the difference. Small classes of five or six students allowed for safety in the space and freedom to be seen and heard. It changed the course of my life.
The next chapter begins with a Five Year Plan.  It started with hearing yoga philosophy that rekindled my practice and understanding of the 12 Step program. I was in familiar territory; a life based on principles that were both profound and simple. I shared my yoga practice and the purpose with others in the 12 Step program and they were delighted and amazed. The poses created emotional connections once thought impossible, and the tools of a yoga practice were enhancing their recovery.  It soon came to pass that I, an uncertified but enthusiastic practitioner, was offering free weekly classes at my house. Recovery and yoga were being combined in an informal yet effective fusion.
It made such an impact that I decided I would become a yoga teacher. More specifically I would become a certified teacher in order to bring yoga to people in recovery.  It took me five years to save enough money to sustain me in some way, continue my practice and become a teacher. I then left my "straight" job and concentrated on my Yoga for Recovering People mission. The current chapter is fulfilling itself daily.  I have been teaching for the last five years. It started with renting a basement space in a local church for community classes,  then expanded to include three major treatment facilities in the Santa Clara Valley. I also included volunteer work and staff positions at local non-profit groups.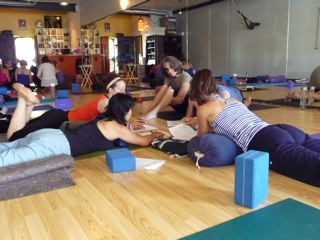 SOAR 7/2012
The work in treatment centers has been inspiring. Students comment about improvement in their sleep ("Hey man - take this class if you want to sleep well tonight"), ability to concentrate ("My counselor told me I am doing better in class"), increase in impulse control ("I did what we practiced in class - I just breathed!") and joy ("I don't mean this in a bad way - but I felt like I was in kiddy garden and we was just playin'"). These are words that allow my heart to float in crow pose, something my body just doesn't do. 
The work in treatment centers expanded as I volunteered and then was hired on as staff at the Art of Yoga Project, teaching female adolescents in a Santa Clara County detention center. I worked with them for nearly four years. Yoga is designed to teach people to re-inhabit their body and the girls in these circumstances were in great need of befriending theirs. It was challenging and rewarding work.
I also taught for the Niroga Institute at the San Jose Job Corps. These young people were at risk for the dangers of drugs, gangs, violence and incarceration.  "Too old" minds with "too young" feelings in bodies emerging into adulthood offered particular challenges to them and the class. This was an amazing experience ― building trust and developing a sacred space where the students were able to practice and to relax in safety and security.
During this time I had also become certified in Y12SR (Yoga of 12 Step Recovery) and started Y12SR meetings in a local studio.  The attendance has grown and now I hold four classes in my area - one is at Elmwood, a local jail. I am enriched by these immensely and grateful for the many people who have joined in over the past three years. 
SOAR 2/2013
Over the course of the past five years I have been able to define and refine the languaging of my classes. I bring the concepts and words from the rooms of recovery into the poses and allow for the physical practice to support the meetings. The body holds tension, trauma and memories from stress, accidents, surgeries and abuse. Moving the body and feeling the movements allows for these to be released.  The mat is magic and the breath is the catalyst for transformation.
What does yoga practice have to do with activism? As a youth in the Sixties activism was an exciting part of my life. In the enthusiasm of my adolescence, living in San Francisco, I was into peace and into equality.  I marched and I leafleted and I protested. I was also part of the "seeker" generation searching for ways to look inside one's SELF, and into alternative ways of looking at things. Society was making a major shift and I was part of that change. I wanted to feel a part of something universal. I did not follow gurus into ashrams or other self awareness teachers into other organized alternatives. I went another way. I knew that change was based on conflict ― not on violence but on the friction between old and new. 
Yoga offers a way to delve into the challenge between "old self" and "new self."   With breath work, meditation and the investigation of poses we find out how we handle our selves on the mat, then out in life.  Comparing yourself NOT to society but to your own heart and personal journey is an act of rebellion against a society that hopes to suggest who and how we should be. Be a rebel; be yourself.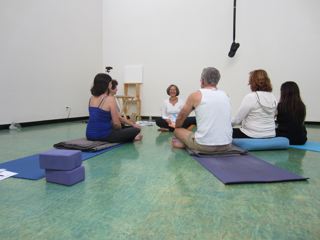 Yoga and Recovery Workshop
While yoga is now becoming more mainstream and middleclass in many areas, I am still a strong proponent of the basics. That is what I teach.  What could be more powerful and unique than finding your self and building upon that discovery?
As the result of these experiences and the increased need and request for recovery-infused yoga classes I have developed a teacher training: S.O.A..R. ™ Success Over Addiction and Relapse.  Kent Bond of Willow Glen Yoga and I lead these trainings several times a year so that other yoga teachers can gain the facility of leading somatic classes that are trauma-informed to students of all ages in all circumstances.  We offer help in bringing the language of recovery into the yoga room so that each practice reinforces and supports the other. We are slowly building a posse of yoga teachers bringing the practices to "every zip code" (as B. K. Bose would put it).  Leading Y12SR classes, part of many across the U.S., creates a community of those who are warriors of the spirit, protecting their recovery.  This is the power of yoga, recovery and integration: service as activism, healing our souls.
Further references:
http://www.huffingtonpost.com/rob-schware/service-yoga_b_2578785.html
http://darrenmain.libsyn.com/yoga-and-the-12-step-path-with-kyczy-hawk
http://www.youtube.com/playlist?list=PL16246392EFEECC6C
-