Printer-friendly version
Four Questions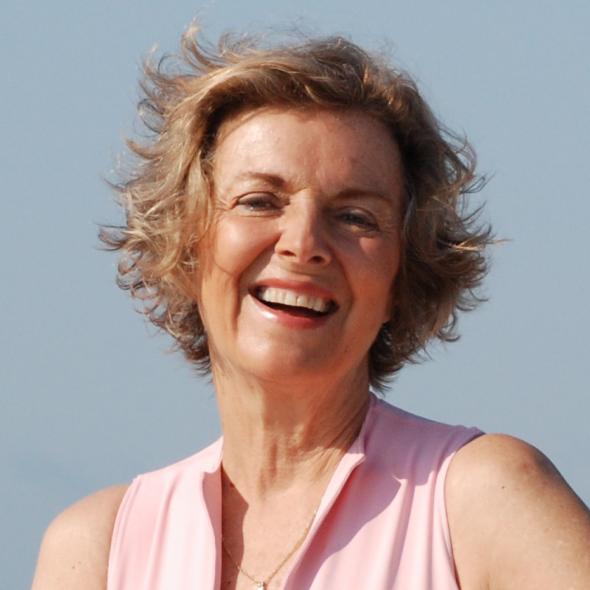 Beryl is the Founder/Director of The Hard & The Soft Yoga Institute and The Give Back Yoga Foundation (GBYF) and has been studying and teaching yoga and meditation for over 40 years. With a degree from Syracuse University in English and Philosophy, she traveled to India in l974 to further her studies and began training yoga teachers as spiritual revolutionaries (the middle path of bringing together spiritual practice and social activism) in l980. She is the author of four books on yoga, including the best selling Power Yoga. Her latest book, Yoga for Warriors, (Sounds True, October 2014) is a guide written especially for men and women in the military, and thousands of these books are being donated to veterans nationwide by her school and GBYF through a Buy One/Give One campaign.
1. Please describe, or tell a story, about your first yoga class or yoga experience.  
My very first asana class was in l971at the first (I'm pretty sure) 3HO studio on Melrose Avenue in Hollywood, California with Yogi Bhajan. I don't remember too much except we did a lot of cat and cow pose and some heavy breathing. His devotees were making his supper in the kitchen next store (just behind a curtain actually) and all you could smell during class was curry spices cooking. The smell of Indian cooking is what I remember most!
2. Describe or narrate your first time teaching yoga. What do you recall?
I imagine the first yoga class I taught had to be in Winter Park, Colorado in about l974. I was living in Colorado and decided I'd teach yoga to the ski patrol and the ski instructors at the Winter Park Ski area. They were all pretty tight so I had to modify the postures quite a bit. I hadn't started my astanga asana practice yet (that came in l979 after I moved back to New York City) so I was practicing and teaching the Sivananda yoga style. By 1979 I'd taught yoga to pretty much everyone in town, and decided it was time to move back to civilization and try to get my life together. It was a good move. I discovered Norman Allen, a few months later, started practicing the astanga method, and began teaching yoga to athletes at the New York Road Runners Club. Fifteen years later, in l995, Simon & Schuster published my first  book, Power Yoga, which sold almost 300,000 copies.  
3. Last time you took a yoga class or workshop, what were your impressions?
Last time I took a yoga class  (I assume the question is asking about an asana class) it was at a yoga conference of some type – it was a budokon class with Cameron Shayne – it kicked my butt. I loved it. He's an awesome teacher.
4. Describe the last time you taught a class or workshop.
The last class I taught was a weekend workshop at Beloved Yoga in Reston, Virginia.   I was impressed with how much the consciousness of people interested in yoga (at least interested in that weekend with me) has evolved in the past 40 years.  On Sunday I taught a Yoga for Warriors class – which is the name of my most recent book – just published by Sounds True – and written for veterans and anyone struggling with the effects of post traumatic stress or trauma. The class was packed. I guess veterans are not the only "warriors." We are all looking for tools to help us get through the difficult times of our lives. Everyone experiences trauma – some people have more catastrophic trauma than others. Yoga – in all its forms – breathing, meditation, movement – is an important and extremely helpful tool to incorporate into an integrated treatment plan.