Printer-friendly version
Four Questions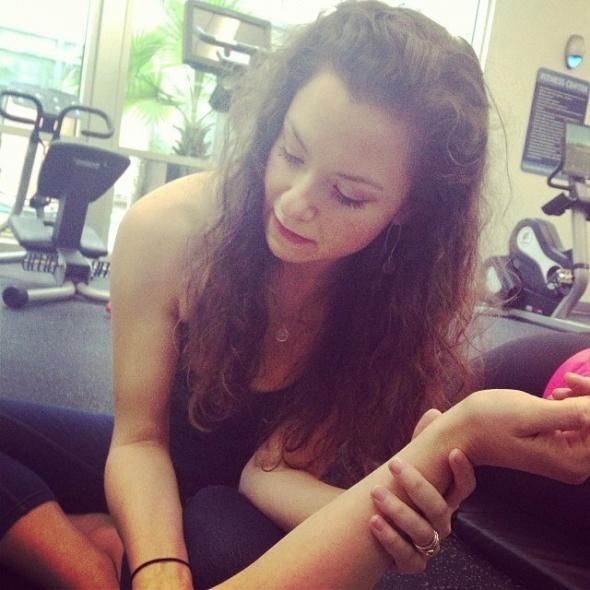 Sara Kleinsmith is a writer and yoga teacher specializing in corporate and therapeutic yoga in Austin, Texas. She was trained in New York City at the Breathing Project. She is inspired by the work of Leslie Kaminoff, Amy Matthews, Bonnie Bainbridge Cohen, J. Brown, Jill Miller, Matthew Remski, and other yoga nerds who love to question passionately. To find out more about her work, go to www.sarakleinsmith.com
1.  Please describe, or tell a story, about your first yoga class or yoga experience.
My first experience with yoga was in high school. I went to a school for the arts to study theatre, and our teacher introduced us to sun salutations as a way to get into our body and breath. When I went to college to study theatre, again our acting teachers thought yoga was an important tool for actors. Both in high school and college, I hated it. It made me feel silly to do and I didn't understand the point. My first experiences with yoga have made me understanding of those who come to the practice with a lack of patience or skepticism. The practice is not easy, and can be challenging in its simplicity at first.
2.  Describe or narrate your first time teaching yoga. What do you recall?
My first time teaching yoga I was very nervous, but I had the support of friends. I started an after-work yoga group for my coworkers. We were waiters in Manhattan so I called the karma project "Yoga for Waiters". My goal was to serve those who serve others (literally) all day, and to address sore and achy legs, back, and feet, as well as emotional fatigue. My friends were very supportive, as I recall. I'd pay to rent the space, and they'd donate whatever small change they had. I had between 10-15 people in every session, and we had a lot of fun practicing together. I remember going back to my notes and nervously checking to see if I was on track with my plan.  After a few months of teaching with notes, I realized that approach did not work for me. It served me more to simply be in the room with my students and have them determine our course. I have taught without notes or a lesson plan ever since.
3.  Last time you took a yoga class or workshop, what were your impressions?
The last time I took a yoga workshop was a "Heal Your Back" type of yoga therapy workshop. There was a good mix of teachers and yoga students looking to improve their health. What occurred me then is the desire for people to find a "specific" or "right" way to do yoga to "fix" their current situation. A friend and I have been recently discussing the idea that we are whole, despite the fact that we are often told otherwise, and that the idea that yoga or poses or alignment can "fix" you is a fallacy. My friend, Gigi, and I are now planning a workshop, wherein the emphasis will be on the experience of the body in movement, and not on healing or fixing. We believe that exploration can, in itself, be healing enough.
4.   Describe the last time you taught a class or workshop.
The last workshop I taught was on the anatomy of the shoulder and yoga asana. The students that attended were very willing to explore and play, and I had the opportunity to guide them at a slow pace. I usually teach Hatha classes, and there is less time to dive head-first into this kind of work. It occurred to me while doing this workshop how much I love this kind of conscious, slow, exploration in asana. I look forward to continuing with more embodied anatomy workshops here in Austin, Texas.