Printer-friendly version
Four Questions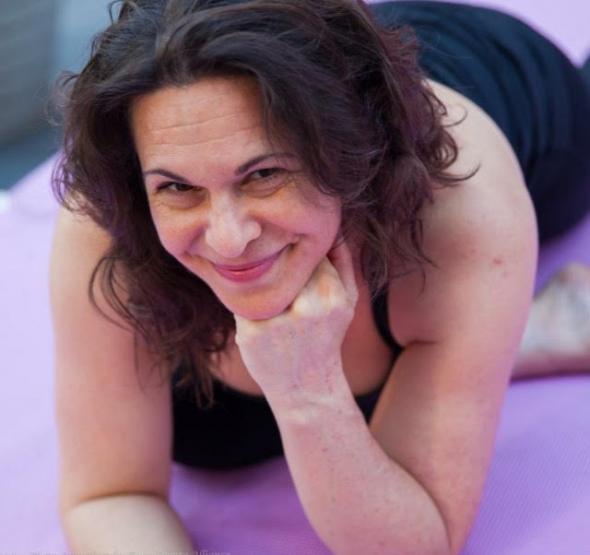 Sarah Bell has been teaching for Yoga Works since 1995, both in New York and Los Angeles, and has facilitated nearly twenty 200 hour teacher training courses at Yoga Works and their partner studios since 2005. Sarah completed her first two years of the Iyengar Yoga teacher training under the direction of James Murphy this summer. You can find her at www.sarahbellyoga.com.
1.  Please describe, or tell a story, about your first yoga class or yoga experience.
I went to my first yoga class with my parents at Rancho La Puerta, 1989, with Phyllis Pilgrim. I mostly remember the delightful bolster, white and fluffy, and the blissful feeling of the just right support in Supta Baddha Konasana. We all wanted to do it again.
The next year I graduated from conservatory with a BFA in Acting, and I moved to Seattle.  My next yoga class was with an Iyengar Yoga teacher, Kat Allen. The students were mostly middle aged women, all of whom were profoundly devoted not only to Kat but to the "magic cream" she applied to their temples and brow in Savasana as well.
I loved the class. I remember the gym at the Mt. Baker Community Center. We all faced inward in a circle. There were a lot of us. We did triangle pose and I got to see how it looked across the way on another person's body, which I loved. It was a real sense of community. Additionally, I was struck by how many of the poses were familiar to me already, from my theatre training: Warrior, Plow, Shoulderstand, and more. The Savasana adjustments: they were truly magical! How I wish I could remember the scent! I returned to the class weekly until the following year when I moved to LA.
2.  Describe or narrate your first time teaching yoga. What do you recall?
A few months after I finished my teacher training with Erich Schiffmann at Yoga Works in Santa Monica, I had been teaching a regular class at a small studio off Main Street called Dragon Studio. I do not recall the experience in detail, but I do have some of my sequences from then. Here is one: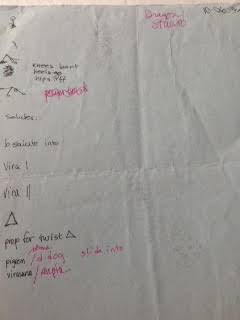 At that time, I was the assistant manager at YogaWorks, and when Jasmine Lieb called and needed a sub for her level one class, I was both terrified and delighted to fill in for her. I recall standing with Maty Ezraty, my employer and teacher, showing her my sequence drawn in little stick figures, and asking her what she thought: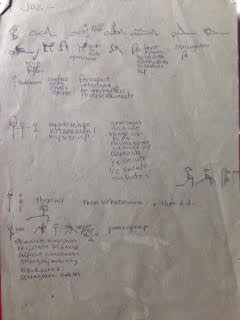 She said, "Sarah Bell, you have to stop planning so much. You have to look at the students, not at your paper." And that was that—I had never been one for planning well in advance until I started learning to teach—and then my own teacher basically told me to go back to my old ways!
I looked, I observed. I was sometimes stumped, but sometimes I clearly saw what was needed! It was liberating and risky; it allowed me (well, it forced me) to connect to the room of people, rather than be stuck to the list of poses I was intending to "teach".
3.  Last time you took a yoga class or workshop, what were your impressions?
I took class last night with my friend Tzahi Moskovitz. I take his level one Iyengar Yoga class regularly. I frequent this class because I appreciate how thoughtful he is. I am inspired by his delight in teaching. I love how clear his instruction is, how simple the principles are, yet how rich the practice is. I like watching what Tzahi sees and how he responds to the students.
I assisted Maty Ezraty last week in a 100 hour teacher training she is teaching currently in New York. The students are keenly listening. She demands their attention and engages them in a most inspiring way. In the brief demonstrations of what they will do next, she always uses one of the students. The class does not drop its energy. The students are learning how to concentrate and sustain their energy. I am impressed by the quality of the teachers who continue to be students. I find it refreshing and it makes me glad!
4.  Describe the last time you taught a class or workshop.
I taught a level one and two class yesterday afternoon at YogaWorks on the Upper West Side. I started teaching this class in the autumn of 2006.
I show up, ding the tingsha bells (which I bought myself upon finishing my 1994 teacher training), and we begin with a couple minutes of quiet. There were a few late people and I asked them to please set their things down and take a seat, I told them they could get their set up and props afterward, so we can all enjoy the quiet opening. There is sometimes trouble with this. All these years and I haven't figured out how best to educate people to feel free to come in, but to please sit down and be quiet with us.  Or maybe I have got it down, and it's new students who are unfamiliar each time...
Anyhow, the class was just fine. They practiced, breathed, bent over, and twisted. They inverted, rested, and they sat quietly. I stopped for a few moments to clarify an action in Utthita Parsvakonasana; I paused toward the end of class to demonstrate a Shoulderstand at the wall. I thought about how Maty would be more likely to use one of the students to show the pose than to demonstrate it herself. One of the things that happens when I go to other people's classes is that I am INSPIRED.  But another thing that happens is I become critical of my own way and wish I could emulate someone else's.
Sometimes for me, teaching is like being in junior high school. I am unsatisfied with my nature, my way, myself.  I judge myself. I wish I were better, smarter, had more to offer. But I know that what this whole practice is about is attention, developing clear perception, and compassion.  I am likely not alone in my wishing I were better, nor in my feeling like a fraud sometimes. It's best when I come in, ring the bells, breathe with the class a while, center down -- start by stopping. I connect to myself and to the moment, and then teaching is, once again, a great pleasure and privilege.