Printer-friendly version
Jessica Rienecker (TallGirl Yogi)
Ahnu footwear has come out with a yoga lifestyle line that has been heavily visible in Yoga Journal over the last year. The marketing folks were kind enough to send me both the Karma Mesh (in grey) and the Maia Nubuck Leather Sandal (in cactus). They are not intended for your actual yoga practice but to get you along the path to and from class and everything in-between.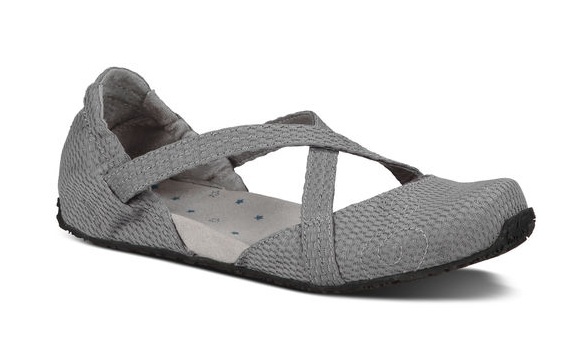 The vegan-friendly and American-made Karma Mesh shoes reflect the rugged hiking background of the company, with the rubbery soles that grip without slip. They have a unique softness in the ballet-like appearance, and the stretchy-back is fitted so that it doesn't slip off when you're walking. The footbed is made of soft suede that is a smooth transition for your soles after a barefoot yoga practice. My primary yoga practice as a student and teacher is outdoors at the top of a hill. Four times a week I am walking up a dirt hill to a beautiful gazebo but that means my feet are usually filthy from flipflops by the time I get there, and my mat has the footprints to tell the tale. These have become my new go-to, replacing my tattered flipflops and keeping my feet from looking like I've been running barefoot through the forest. My challenge now is talking myself out of getting one in every color they make!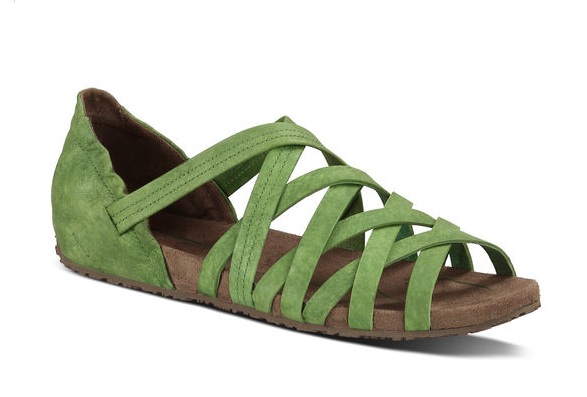 The Maia Nubuck sandal is Ahnu's take on the Huarache shoe (a type of Mexican sandal). The footbed is the same super-soft microfiber suede as the Karma, and it has an antimicrobial treatment to help keep them "fresh". They have the same stretchy back to the shoe which means it will have a fitted grip on the back of your ankle to keep from slipping. The Maia is lightweight and is a great traveling shoe to slip on and off (to help with those airport security lines). The outer straps are made of Nubuck, which is top-grain cattle leather so they aren't vegan-friendly like the Karma but they offer the same comfort and versatility to go from the yoga studio back to the grind with a sole that has traction from its patterned rubber surface.
The Ahnu marketing folks let me know that the sizes tend to run a half-size big, which was perfect for me as I typically wear a women's size 11 1/12 or 12 - the 11 Karma Mesh and Maia Nubuck were perfect fits. They offer free shipping and returns, so you can send them back if they don't fit or work for you. Visit www.ahnu.com/women-yoga/ to see their entire yoga lifestyle line.
Jessica Rienecker has been practicing yoga since 2009, and teaching since 2013 in Orange County, California. She focuses on intro level classes to help make yoga accessible to all fitness levels and body types.You can follow her on facebook at www.facebook.com/TallGirlYogi or her blog at www.tallgirlyogi.com. Jessica is Project Manager at Yoga Teacher Magazine.