Printer-friendly version
Jessica Rienecker (TallGirl Yogi)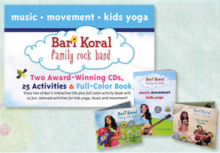 Bari Koral is the originator of the "De-stress At Your Desk" yoga program that is taught at Fortune500 companies across the country.  Her latest project brings yoga to a much different audience: kids! She has received accolades from People Magazine to Nickelodeon, and was invited to present her yoga-for-kids program at the White House... twice. She has a new yoga and music television program coming to Veria Living Network called "Yogapalooza". Needless to say, this yogi is one busy bee.
Bari's "Music, Movement, Kids Yoga" kit comes with two musical CD's and an activity book for parents or teachers. I first listened to "Anna and the Cupcakes", which includes 10 songs. Her musical style reminds me of the Barenaked Ladies, and I found myself humming along to songs about rocket ships and butterflies. The tunes are folk-y and catchy, and I almost forgot it was a kid's album! The second album is aptly named "Rock and Roll Garden".  The songs incorporate both yoga poses and yoga philosophy such as mindfulness and relaxation.
The activity book has suggested games and tips to go along with the tunes, and can be used as a recreational activity at home or learning lessons in school. It goes beyond yogic suggestions and also has cooking and craft ideas to expand upon the themes in the songs.
Bari Koral and the Family Rock Band represents a growing culture in yoga: families who are seeking the mind-body lessons of yoga together! Kids yoga is becoming an increasing trend in classrooms, yoga studios, and after-school programs. This kit would be a great support for any parent looking to introduce yoga to their kids and actively participate with them. A lot of my yogi friends with children complain that kids' music isn't all that enjoyable on repeat, but this will make them fans for sure! With summer just around the corner, this could also be a great tool for captivating an energetic kiddie audience at summer camps.
See all of Bari's products, kids yoga tips, and her tour schedule at www.barikoral.com.

Jessica Rienecker has been practicing yoga since 2009, and teaching since 2013 in Orange County, California. She focuses on intro level classes to help make yoga accessible to all fitness levels and body types.You can follow her on facebook at www.facebook.com/TallGirlYogi or her blog at www.tallgirlyogi.com. Jessica is Project Manager at Yoga Teacher Magazine.