Printer-friendly version
Four Questions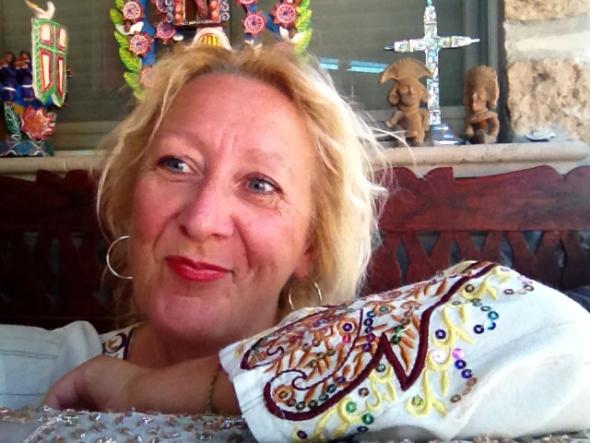 Camella is an ordained Swami in the Kriya yoga lineage and has a passion for helping people de-mystify yoga philosophy whilst bringing mysticism back into our daily lives. She has pioneered Aqua Kriya Yoga, authored 3 books. Trains teachers in Aqua Kriya yoga and Prenatal Kriya yoga, presents 'Cooking the Yoga Sutras' (an online course) and is an Ayurvedic Health Educator and single mom.
She can be contacted as camyoga@gmail.com
1.  Describe or tell a story @ your first yoga class or yoga experience.
I was 17 years old in England, and my mum asked me and my sister to go to a new yoga class that was being offered out of town. The 'Yoga for Health Foundation' was a pretty amazing place in a postcard pretty, country village setting. The long drive up to the Manor House was formidable, with horses and an imposing sunset behind the magnificent buildings. An impressive setting, but I later learned that the Yoga Foundation was only in temporary residence there as they were renting the space from a private local boys' school. I was impressed with the kindness of the people I met from the registration staff to the teachers themselves. No-one was trying to be a 'poster yogi'.  Just really nice down to earth people. The foundation was run by Howard Kent who was a visionary back then and specialized in residential programs for people with MS, heart problems, wheel chair and other issues, which opened my mind to the possibilities of yoga really helping people on a deep therapeutic level, and where my practice lead me many decades later. Savasana was a seriously dedicated pose, and I remember people would bring their own pillow and even a sleeping bag for that special time, which in the winter was made more magical with a real fire crackling in an open hearth. Sadly a few years after I moved to California, after a long struggle, they lost the space to a property developer who did not see the important work that was being done helping many visitors from all over the world. I have never found anywhere else quite like it.
2.  Describe or narrate your first time teaching. What do you recall?
Goodness that was a long time ago and I can't remember the first class, but definitely I would have been nervous and likely made the same mistake lots of newly certified teachers make and talked too much. It is easy to give too much information when we are excited about sharing with new students, but it can be overwhelming. Lucky for me, I think they came back. My first time teaching in India was when I was invited to teach adults at a local school which was very similar to a muti story carpark here. It was in the heart of a busy town and the noise of car horns honking continually and the heavy pollution made for an interesting challenge. I had to really think carefully about my words as not everyone spoke English and the regular teacher who was also an Ayurvedic practitioner, had to translate. In my training I was taught KISMIF. Keep it simple, make it fun. I hope I did justice to that teaching.
3.  Last time you took a workshop or yoga class. What were your impressions?
I really have to make time to attend a class or workshop as I would never be able to find the time to do so. One of my most memorable experiences was when I took a class from Beryl Bender Birch at the Bermuda Yoga Conference. I was teaching a few class there myself but wanted to take as many classes as I could over the weekend from other presenters. She was so sweet and I remember her saying to the class in her welcome introduction that she was honored to have another teacher in her class as it shows maturity. We should always be a student and not get too big for our boots thinking that we know it all. It closes off our mind to new ideas.
4.  Describe the last time you taught a class or workshop.
Well I am just going to have to pick the most poignant recent memory here. I have been practicing and developing yoga in the water for almost 15 years now, and am astounded by the dedication of the students all of the time. A few weeks ago before class, I noticed that a fairly new student who is in her early 80's and suffering with arthritis, joint issues and loss of balance, was practicing yoga poses in the corner of the pool. When I went over to see what she was doing, like an excited child she explained that she had bought my book, laminated some pages and was working every day to improve her yoga poses.  It is never too late to begin a yoga practice and my students truly are my best teachers continually reminding me of that. My work these days is trying to include and invite a very diverse population to a systematic science that can help us find greater balance and contentment. I am traveling and training teachers in Aqua Yoga as the water environment makes yoga accessible and therapeutic. I was taught that even the spiritual path is a selfish one. Subtle yes, but by teaching and helping others, we are truly helping ourselves become more aware.  The path then become a practice which is always changing. And as a footnote I can hear a very wise man who performed his Maha Samadhi only a few weeks ago saying. "We need to be able to adapt, adjust and acclimatize to life and its many challenges." – Goswami Kriyananda