Printer-friendly version
Jessica Rienecker (TallGirl Yogi)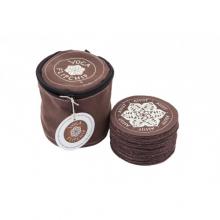 You may have seen my review of the original bamboo yoga flip chips – a silent way to send the message to your yoga teacher that you would or would not prefer hands-on adjustments. They were created in order to set comfortable boundaries regarding touch between student and teacher. The new fabric design of the flip chips make them more portable;the idea came from the 2014 Yoga Alliance conference. The no-assist side was simplified to heighten the contrast between sides and the words 'no hands-on assist' ensure newcomers get it immediately. The set is lightweight and comes in a zip-up fabric container that can easily fit in your gym bag or mat bag. The set I received came with 30 chips, but they've just launched a set of 60 in a canvas bag. This would be a great tool for a teacher on the go, or who teaches community classes with large attendance.
You can purchase them online at store.yogaflipchip.com

Jessica Rienecker has been practicing yoga since 2009, and teaching since 2013 in Orange County, California. She focuses on intro level classes to help make yoga accessible to all fitness levels and body types.You can follow her on facebook at www.facebook.com/TallGirlYogi or her blog at www.tallgirlyogi.com. Jessica is Project Manager at Yoga Teacher Magazine.