Printer-friendly version
Four Questions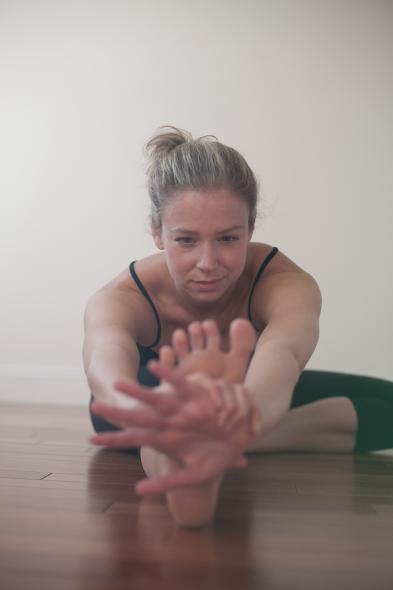 Chrissy Carter is a passionate yoga teacher, writer, and domestic enthusiast. Chrissy has been teaching
 yoga for over a decade, and is a senior teacher and teacher trainer at YogaWorks in NYC. Her teaching is influenced by her Iyengar-inspired practice, her love of anatomy, and her passion for philosophy. She is known for her lighthearted approach, razor-sharp clarity, and keep-it-real attitude. Chrissy is the star of two Gaiam DVDs and is a featured teacher on GaiamTV.  Photo credit on contents page: Melina Hammer; photo credit this page: Jamey Welch
1. Please describe, or tell a story, about your first yoga class or yoga experience.
My first yoga experience was in college. Our resident dance professor, Allyson Greene, introduced yoga into our modern dance classes and company rehearsals. We did mostly standing poses and I remember thinking that the postures were hard and a little weird. I was intrigued and had no idea why. I wasn't able to articulate my experience at the time, but looking back I think I saw a glimpse of the path I had been desperately searching for for a long time — the path to me. Yoga gave me the tools I needed to start digging inward. 
2. Describe or narrate your first time teaching yoga. What do you recall?
The first time I taught yoga was a total out-of-body experience! I taught a private lesson to a co-worker's wife. I spent the whole time in amazement of what was happening — I had no idea what I was doing, and yet there she was, doing what I was telling her. I realized in that moment the profound responsibility I had taken on as a teacher. I'm not sure if I taught her anything, but the experience most certainly taught me a lot and inspired my studies as a teacher.
3. Last time you took a yoga class or workshop, what were your impressions?
The last workshop I took was with Richard Rosen. I was incredibly inspired by his gentle, grounded energy. His teaching reflected the depth of a lifetime of study, and yet it felt more like a genuine conversation amongst fellow students of yoga. The workshop was about the "hollows of the body" and he emphasized the release of the heads of the femurs and the depth of the groins, something I had been exploring in my own body, so I was completely engrossed in everything he was saying. He came back to Adho Muhka Svanasana again and again, each time applying the subtle alignment we had explored through simple postures and prop work. The workshop fueled a lot of personal practice and investigation and has informed my teaching a great deal.
4. Describe the last time you taught a class or workshop.
I taught a beginner's class just a few hours ago. I've been teaching this class for maybe eight years now, but today I was working with a new 300hr apprentice who's now assisting me and I saw my class and my students in a new light — through my assistant's eyes. It made me think a lot about her needs as a new teacher. I was in essence teaching a group of beginners and teaching someone how to teach beginners — conducting mini posture labs, showing her hands-on adjustments, and emphasizing specific aspects of the sequence so she could follow my thought process and instructions throughout the class. There I was with my beginner students, seeing the practice of teaching as if for the first time; we were all beginners together. It's moments like that that remind me of why I do what I do.