Printer-friendly version
Jessica Rienecker (TallGirl Yogi)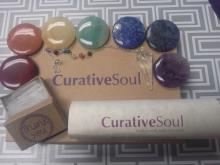 I first came across Curative Soul when I started seeing colorful photographs of their stones on the Instagram pages of a few yogis I know. I was instantly intrigued by the beautiful and unique quality of the stones that came across even through digital images! I had studied the chakra system during yoga teacher training, but like many Western yogis found that the physical practice spoke to me more often than the spiritual. Chakra stones and crystals are a great way of exploring a healing philosophy that is common for Eastern practitioners and alternative-medicine fans. Healing stone users believe that by placing certain stones to area of the body with corresponding chakras (the seven "energy centers" in our bodies) you can help to calm and settle chakra imbalances.
Laura Beth McIlroy ("LB") began Curative Soul in 2012, continuing a family legacy of work with rock and gemstones. She and her team mine, shape, and polish many of their minerals and handmade jewelry, cleansing each piece with hand-gathered sage before shipping. The spicy smell of sage was coming from the box before I even opened it!
Box Contents:
White sage smudgestick
Set of quartz crystals
7 chakra stones with information/guide on each and its purpose
Healing pendant
The process of using the kit involved making a clear space (sometimes the hardest part), and placing the stones on the corresponding chakra areas of the body. A 20-minute relaxation time was recommended. This kit was a great "Chakra 101". Not only were there instructions in the kit, the website offers additional information on how and why to use the stones at home. After using it, I felt like I had enhanced my knowledge of healing stones and found a little extra relaxation in my day. The set of stones and pendant came in velvet drawstring bags and the entire set was presented nicely – it would make a great gift!
You can purchase and read more about the stones at www.curativesoul.com/
Jessica Rienecker has been practicing yoga since 2009, and teaching since 2013 in Orange County, California. She focuses on intro level classes to help make yoga accessible to all fitness levels and body types.You can follow her on facebook at www.facebook.com/TallGirlYogi or her blog at www.tallgirlyogi.com. Jessica is Project Manager at Yoga Teacher Magazine.