Printer-friendly version
by Jenny Zenner
After reading my review of Arianna Huffington's
Thrive
, a colleague suggested Greg McKeown's
Essentialism: The Disciplined Pursuit of Less
as a follow on. The pair certainly complement one another, emphasizing paring down to live a fuller life. Although there's only a brief reference to meditation in the text, I still recommend this title for yoga studios to stock alongside traditional yogic texts. 
The principles of essentialism are about "doing less, but better." As a management consultant, McKeown focuses on success factors. He concludes that great success can be achieved by saying no to doing it all while saying yes to doing only what is imperative. He boldly states he's trying to start an essentialism movement. 
McKeown appeals to a career-driven audience, many of whom frequent yoga studios in an attempt at achieving personal balance and peace. He urges readers to make exacting, conscious decisions regarding what opportunities to embrace or reject. "If it's not a clear yes, it's a clear no!"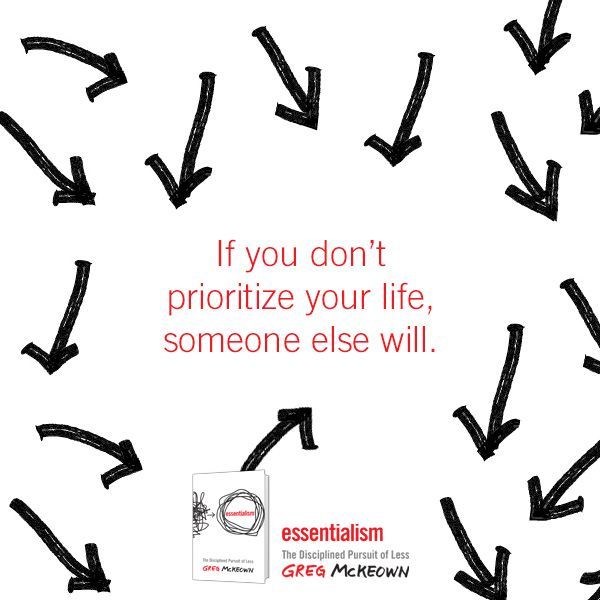 If you're thinking, "Oh no! What if my clients read this book and decide they don't have time to come to class?" don't fear. Reading Essentialism reminded me of the value of my own contemplative practices. I found myself pondering both my teaching style as well as my own life balance. It reinforced that yoga and meditation clearly fall in the yes column. They help me see what is important in all the other areas of my life. I suspect reading this book will only make your students all the more committed to their practice.
McKeown references zero-based budgeting, an approach where no line items are carried over as a given from year to year. To be added in, the value of the expense has to be substantiated. He extends the concept to daily activities. "Every use of time, energy, or resources has to justify its existence anew."  I asked myself how this applies to my teaching. What happens if I question each posture, prompt, and physical assist? Is what I am proposing necessary, or can my students benefit from less in this moment?
Quotes from many of my favorite teacher/writers appear: Mary Oliver, the Dalai Lama, Thich Nhất Hanh, but the line that cuts to the book's essence for me is this: "What is the obstacle that is keeping you back from achieving what really matters to you?" I instantly had my answer. I can't say that I immediately dropped that activity since doing so would eliminate my main source of income, but I have clarity on what I need to do...and not do. I'm setting my sails toward my destination, knowing I might have to tack a few times before I arrive. Thanks to my practices, I trust I'm heading to the right shore while purging the non-essentials overboard as I go. 
And you ‒ what should you really be doing? 

Jenny Zenner founded Seeds Yoga www.seedsyoga.com, a guide to grow your life. Based in Seattle, WA, she's a former addictions counselor turned yoga teacher, career coach, and writer, being mindful in as many moments as she can muster as a mom to toddler twin boys.