Submitted by Ivan Nahem on

Printer-friendly version
For a while now I've wanted to do some volunteer work with my yoga teaching. A couple years ago I trained with Connected Warriors but plans fell through for various reasons beyond my control (arrrg!) and I didn't get on the roster till this year. However the first few times I was going to teach at the Brooklyn Veterans Centers there was no one showing up so it was cancelled.
This past month had suddenly turned oddly militaristic for me in tone and theme, at least for someone who doesn't have much to do with the military on a regular basis. I read Sparta by my former writing teacher Roxana Robinson, a self-assured, beautifully and assertively written, intense, well-researched novel about an Iraqi vet who returns home a psychological wreck, a shell of a traumatized soldier. It is so painful but this is a story we need to hear and Roxana really gets it, this account is so real, she goes to places that may well astonish you. Read more about Sparta here.
Also I revised an older essay about my history with regard to the American military and had it published on Mr. Beller's Neighborhood. (Find that here.)
I learned that a certain guy in my writing class has PTSD after being in the Air Force and then he dropped out of the class. The intense look on his face through those classes he attended before he left us was haunting.
 And then I finally got to teach yoga at the Brooklyn Vet Center in the Howard hotel building, which is blocks away from Metrotech, where I spent a lot of time in my last 'real' job.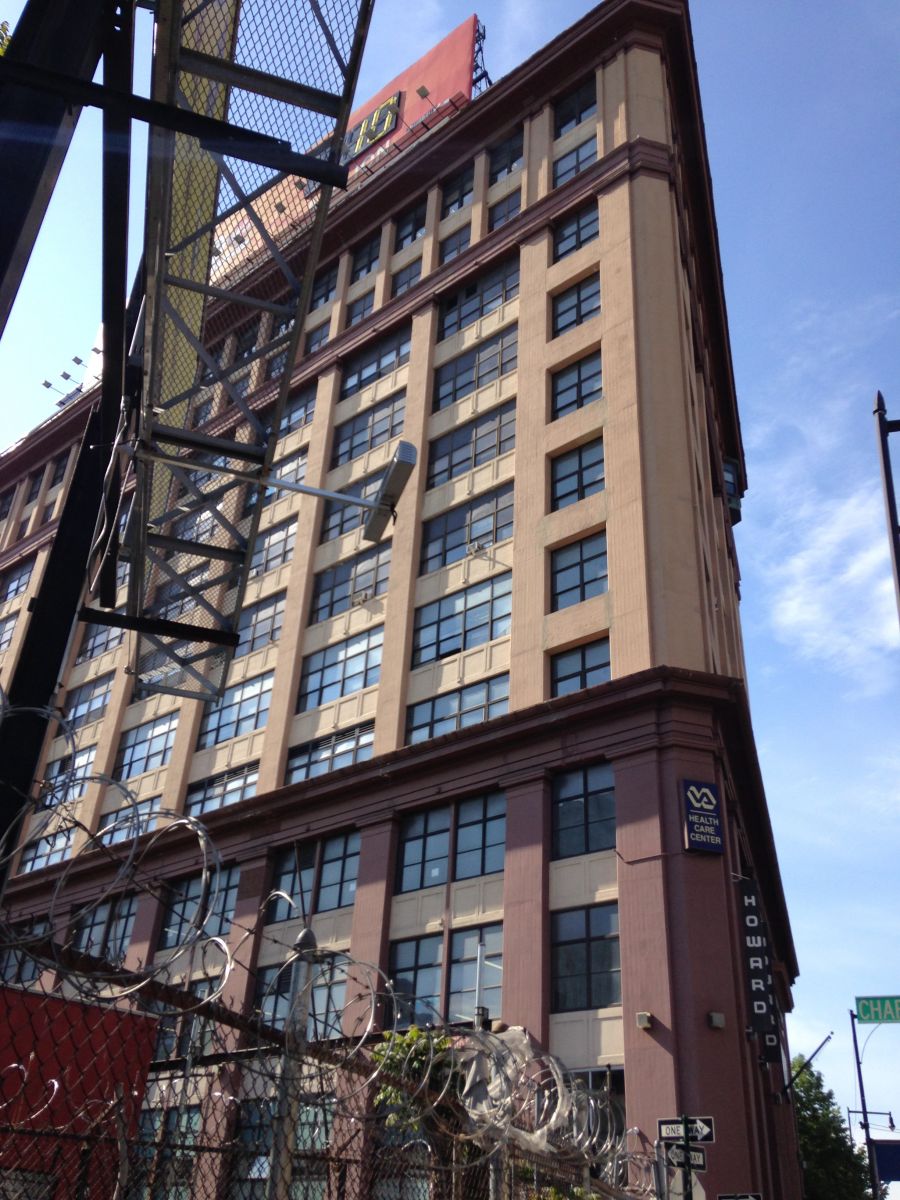 My photo of the building in which the BVC is located.
For the first class two people signed up, Bev and Fred, plus a guy who just happened to be there in the Center and wanted to come observe, named Andreas. Bev, a Viet vet, was game for the yoga, but she told me she has trouble leaving her house, which might explain her subsequent absences. She told the coordinator she really enjoyed the session, but she hasn't been back.
The past three times it's only been Fred. Getting to know Fred in our "privates" has been a delight and I daresay even a solace to me. It's a bit sad to think that of the estimated half million vets in NYC (http://www.newsday.com/news/new-york/taps-for-the-vfw-1.323178) there would be such a low turnout for this kind of benefit, but yoga has an uphill battle in the terms of PR with soldiers. It's a shame because, as Fred himself would attest, it provides so many benefits, both physical and mental. What could be better for ex-soldiers than moving the body, and then also stilling the body, encouraging some kind of peace of mind through tried and true techniques?
I don't like to pry too much but I did manage to learn several facts about Fred (he's certainly not shy). He was a D minus student in school, and after he joined up he was put into the infantry. At the time he carried 185 pounds at 5'6" tall, so he says he was obese. Anyhow he's less now, and in great physical shape, though he still has a gut. After serving he took some tests which showed he should've gone to officer training because of high intelligence, but because of his grades and shape he was a grunt, serving a year in 'Nam as a mortarman dropping rounds. (I don't yet have permission to reprint this pic, but if you go here you can see Fred – he's the one in the gold cap.)
He's had the prostate operation, he's had bunion operations, his right foot isn't so pretty, but he's dealing with it fine.
He's held the posts of District One Commander of the Veterans of Foreign Wars, King's County Commander for the American Legion, and he is currently National Commander of Catholic War Veterans. He keeps to a demanding schedule, always going from one place to another, giving talks, running for office, meeting friends. In fact he said facetiously that he's afraid he's going to break the pedometer his physician gave him. He takes spin classes, kickboxing, body sculpting, does yoga and has a personal trainer. I know Fred won't let me down and will show up to each session. The closest he's come to allowing about any psychological condition is when he told me how busy he is and added that being busy is a way of dealing with PTSD.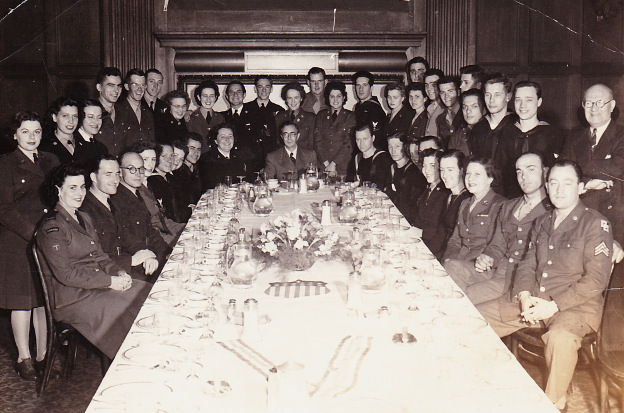 My dad as a soldier; second from right, seated.
Plus Fred has a robust sense of humor; everything I say that could be construed as funny, he laughs with me. So the two of us are lying on the floor of this meeting room in Savasana, arms and legs splayed in the broad daylight through the bare windows, and I say, "If anyone comes in here they'll think we're in a cult and batshit crazy" and he cracks up. Once I asked if he'd experienced any sharp pain in any of the poses and he told me I'd have heard about it if that were true. Okay, it was the tone that made it hilarious.
We talk for a while before we start the session and then slowly make our way through my simple program. This past Friday I inserted some chair work (I loved that he expressed some skepticism about the chair in general, that sitting isn't so good for us, but I also think the chair is functional for certain poses, particularly twists ‒ the arms and back of the furniture so amenable to leverage) and some work at the wall (Vira III, L-shape). He has no hesitation, not a whisper of complaint. Sometimes, doing tree pose together, facing each other, we avert our eyes, but that's merely concentration, really there's no awkwardness with Fred.
At the end of the session we sit cross-legged and namasté-bow to each other. And hell, I really do bow to this guy and all he's been through and to what he's made of his life. He's probably helped me more than vice versa.
When I was growing up that folk song "Down By the Riverside" made me think, especially the idea that "I ain't gonna study war not more." I thought studying is good, but wouldn't it be great if there was no such thing as strife? Wikipedia says, "The refrain of 'ain't gonna study war no more' is a reference to a quotation found in the Old Testament: 'Nation shall not lift up sword against nation, neither shall they learn war any more.' This quote occurs twice in the Bible, in Isaiah 2:4 and Micah 4:3, and is part of the swords to ploughshares motif."
I wish we didn't have to study war, I wish everybody on the count of three would beat their swords into ploughshares (despite the fact that ploughshares aren't really in very great demand these days; maybe into selfie sticks instead?). I wish there were no wars, not in any sense. I wish people weren't psychotic and stupid and greedy and mean. But that's what's going on in so many places, constantly. I'm just happy there are people like Fred, one very connected warrior, to allow one to still believe in, even be enthusiastic about, this doggoned annoyingly tough project of all of us living together on this miraculous planet.