Printer-friendly version
Four Questions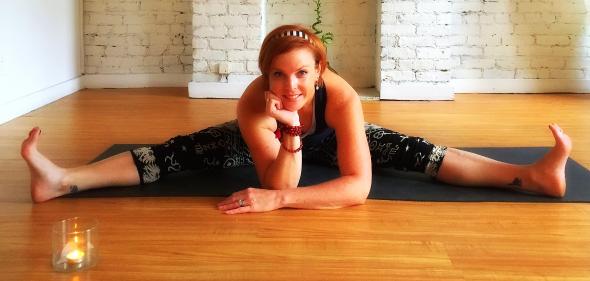 Gail Hamlin, E-RYT-200, E-RYT-500-hour, began her yoga practice in 2001. Gail studies and teaches Ashtanga yoga and therapeutics. You can catch her classes at Yo Yoga!, Zen & Yoga (in Forest Hills, Queens), and Pure Yoga. Check out her website here.
1. Please describe, or tell a story, about your first yoga class or yoga experience. 
The first time I took a yoga class I went with a colleague from work during our lunch hour. The studio, right by our office in midtown, was Yoga Zone founded by Alan Finger. I don't remember much about the particulars of the class, only that I felt I'd found my "home". Practicing yoga felt as natural as breathing. I took that first class and never looked back. Soon, I was practicing five times a week and developed a home practice as well (an early attempt at a Mysore practice – only I didn't know it then!). That was in early 2000.
2. Describe or narrate your first time teaching yoga. What do you recall? 
After I completed my first 200-hour yoga training, I picked up a Basics community class. I was excited to jump right in, but as the time approached to walk into the room to teach, I became almost paralyzed with fear. It occurred to me that although I had a 10-year yoga practice at that point, I knew nothing about teaching. 
For support, my husband came to my first class (which was perfect because he was a beginner!). Looking around the room, I saw a large group of very different individuals coming from various backgrounds – carrying stories, baggage and injuries. One woman was seven months pregnant and I thought I'd pass out.
As it turned out, teaching came naturally to me. I found it easy working with each individual in a group setting. A set of cues for one student worked for all of them and I began to see the ripple effect of my words among the bodies in movement. Most important, after class ended I felt as calm and uplifted as if I'd practiced along with them. I knew then I was in teaching for the long haul. 
3. Last time you took a yoga class or workshop, what were your impressions?
Each time I step on the mat in a class or workshop setting, I remind myself I'm the student. This way I leave my teaching and judgments at the door. And I prefer to practice "anonymously", most times in the back of the room. That said, as a long time yoga practitioner I've learned what qualities I find important in my teachers. Flashy teachers playing loud music leading creative sequences for the sake of being "different" turn me off. The word that comes to mind is "reckless". Instead, I enjoy classes where I can feel the yoga; where I have enough time with each asana to be in it before moving on. Teachers that allow students to explore what works within their own bodies score big points with me. Don't tell me what to feel. Let me have the experience.
4. Describe the last time you taught a class or workshop
I love teaching workshops. To me, they are the perfect balance of sharing what I know as well as discovering things I don't know. Each one is its own learning experience. The same could likely be said about teaching group classes as well. One of the most gratifying aspects is watching the students explore what you teach and find success. For example, teaching an inversion workshop, it's exciting to see students achieve Sirsasana for the first time or Bakasana. Also, if something doesn't work from a teaching perspective, it forces me to explore other ways to help the student(s). There is no "one size fits all". It's one of the beautiful things about teaching.