Printer-friendly version
Four Questions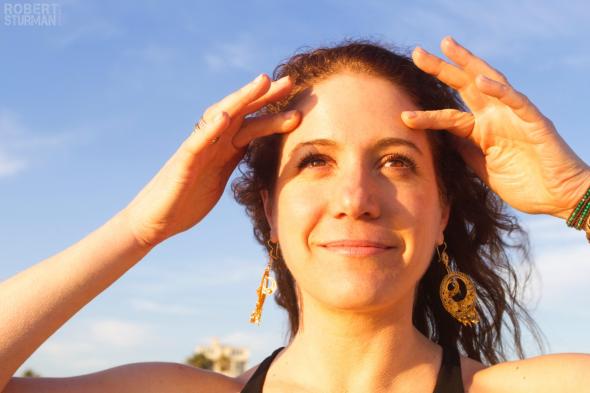 I started as a teenager and dedicated practice since early 20s. Three certifications. Gigi found yoga while struggling with depression in her freshman year of college. She developed a consistent practice a couple years later, enjoying the centering and grounding aspects of yoga. She is happy to share this with her students. She has taught over 10 years at Step Up Second Facility for Special Needs.  Seeing how yoga is a great addition to more traditional coping, substituted for eating disorder units and recovery house. Interested in physical ways yoga can help the body. Internally the mind quiets, but there are anti-aging agents to yoga that Danielle Collins in the UK has been recognized for. Certified and teaching this. Learn more at www.yogawithgigi.com.  [Accompanying photos by Robert Sturman.]
1. Please describe or tell a story about your first class or yoga experience.
In 1993, I was a teenage freshman at UC Santa Barbara. I was going through a difficult time in my life. Going away to college proved more formidable than expected. A yoga teacher offered classes in our dorm. I went a couple of times and remember feeling accepted and included. The teacher had such a sweet way about her. She had a fitness level and peaceful demeanor that seemed unattainable, almost foreign. I see these first couple of yoga classes in the dorms as an entree to developing a consistent practice a few years later.
2. Describe or narrate your first time teaching yoga. What do you recall?
The first time I taught a yoga class, I failed. In order to get certified and earn the 200 hour yoga teacher training, we had to teach a 90 minute yoga class. I tried so hard to remember the exact names of the asanas and even wear the cutest outfit for my first class. The two most flagrant marks against me were ignoring a pregnant lady's needs and simply not letting my personality show. All the striving towards perfection and achieving that served me well in academia did not have a place in the yoga room. I was accustomed to preparing and regurgitating information so much so that I lost my identity. It is in the yoga rooms that I have found, rather discovered, who I am. And it now is clear that my teacher was really guiding me to that place of deep integrity. Teaching involves integrity of keeping what the ancient yogis have given us, as well as integrity of presenting the information in a way that is authentic to each of us. The second time teaching, I passed...not with flying colors, but high enough to get certified and embark on a new identity as a yoga teacher.
3. Last time you took a yoga class or workshop. What were your impressions?
The last class I took was at a studio that is located just a five minute walk from home. It is such a luxury to be able to walk to yoga. The class was filled since the teacher is popular. And for good reason. He has been teaching for many years. His instruction is consistent with my teachers who also teach with integrity and respect of this ancient practice. He cranks the heat up to a slightly warm mid 80's. The sweat and challenging poses keep me focused on the practice and help quiet the mind. I like the sense of community, recognizing faces, chatting before and after class with fellow yogis. This reinforces that sense of belonging to something bigger than who we are as individuals. This union, or yoking as we often understand yoga, makes me stronger as I fill the days, showing up to teach and play music. That class stays humming in my soul, hopefully charging me up towards being a better version of myself. Reminding me that there is a whole room of people as I look around the room who also are ommming and namastéing to make something better. This is reassuring and I look forward to coming back for more!
4. Describe the last time you taught a class or a workshop.
I taught a workshop on The Danielle Collins Face Yoga Method. Face Yoga is a natural approach to anti-aging. The exercises are simple, even silly, as they help to build collagen (plumps the skin) and elastin (firms the skin). Danielle Collins has a holistic approach to anti-aging which includes ancient Indian techniques as well as massage and acupressure.  It is rewarding to teach The Danielle Collins Face Yoga Method. Attendees are excited about this new form of yoga. There are many hybrid yogas out there today. We have choices to go to Hot Yoga, Dance Yoga, and now Face Yoga, which is a new form of yoga that helps us feel better about faces. Just as we exercise our bodies for a more toned, healthier appearance, the muscles on our faces and necks benefit as well. The good news is that the facial muscles are much smaller than the muscles on our bodies, so results are quicker!