Printer-friendly version
Reviewed by Ivan Nahem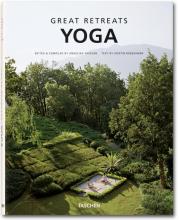 This multilingual edition of Great Yoga Retreats is the perfect coffee table yoga book. In fact I made haste to accidentally spill a tiny bit of coffee on it… a kind of baptismal welcome, I suppose. The book is the brainchild of the yoga-enamored Angelika Taschen, who edited and compiled the book, and like all titles under the Taschen imprint, it is beautifully done, the design is utterly tasteful, the photos are gorgeous. Open it anywhere and you will experience visual delight.
Thirty-two yoga-friendly venues are reviewed. There are two tables of contents as well as a map. One contents table breaks the spaces into four categories: ashrams; yoga retreats; healing and study retreats; hotels, resorts and spas. A second table collects them by continent (which interestingly underscores that there is nothing from Africa). In her introduction called "Why Yoga?" Angelika tells us she has "selected the world's most special places where instruction is provided by the very best yoga teachers."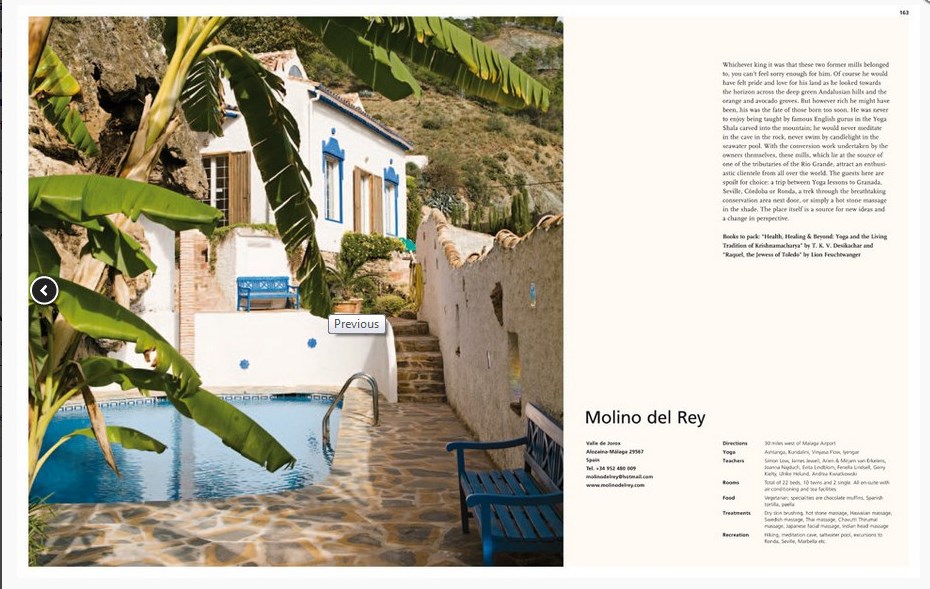 Since this is the new multilingual edition; text is presented in English, German and French. The author of the descriptions is Kristin Rübesamen. Each space provides certain uniform information such as directions, teachers, leisure activities, and each space is treated in a writeup. Rübesamen's prose can sometimes be a wee bit odd, but she is able to deliver the spirit of each place with panache and verve; her insights are smart and genuine.
Of course sometimes one doesn't see everything. I happen to have taken an intensive TT at one of the retreat spaces, and as it turned out that behind the scenes there was a kind of anti-yoga cult thing going on with the owners and staff, and I heard something about a subsequent police raid too. I don't know if the same people are running that show now, but if you plan on visiting one of these venues, do the diligence in terms of investigation − in other words take into account more than a few enticing paragraphs in a primarily pictorial book.
That said, this book is a treasure. Angelika Taschen has manifested her passion in this lovely project for anyone who loves yoga to enjoy.
Ivan Nahem is the Founder/Editor-in-Chief of Yoga Teacher Magazine.