Printer-friendly version
Jessica Rienecker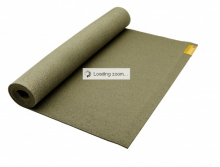 I was lucky enough to be able to try out two very different mat products from Hugger Mugger recently. Their site has over 20 different mats to choose from. The company has been around for over 25 years, and that experience shows in the diversity of their products.
The Recycled Rubber Mat is an ecofriendly non-stick mat, made out of 100% rubber, and I found it  offered a great deal of cushioning and support during my outdoor yoga class. The rubber smell was certainly what you might call fragrant the first time I used it, so I would recommend wiping the mat down with a non-toxic mat cleaner or some tee tree oil before your first practice. It was a sturdy and durable mat that was unfazed by the cement, dirt, and rough use it got outside. I didn't need my skidless towel on top of the mat during my practice either. The mat's thickness was certainly helpful even in an indoor class, and it had some give which helped on tender joints like the knees when in Cat/cow and other floor poses.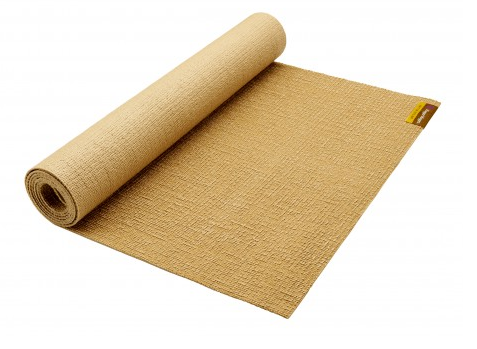 I was eager to try the Sattva Jute Yoga Mat because it looked so different from other mats I had seen before. This mat is also ecofriendly and is made out of jute fiber, which is the material used in making burlap sacks. The woven jute has non-stick droplets embedded on the surface of the mat, so you get the benefits of a skid-free surface while still maintaining the rustic look that the jute provides. Since the material is woven, it absorbs moisture which was a nice perk for an indoor class that got warm very quickly. The mat is lightweight and great for travel, but needs a little bit if cushioning if you'll be in an outdoor class.
These two very different mats were great to try out in different class environments, and are certainly a nice change-up from traditional mats. You can purchase Hugger Mugger mats online at www.huggermugger.com.

Jessica Rienecker has been practicing yoga since 2009, and teaching since 2013 in Orange County, California. She focuses on intro level classes to help make yoga accessible to all fitness levels and body types. You can follow her on facebook at www.facebook.com/TallGirlYogi or her blog at www.tallgirlyogi.com. Jessica is Project Manager at Yoga Teacher Magazine.