Printer-friendly version
Four Questions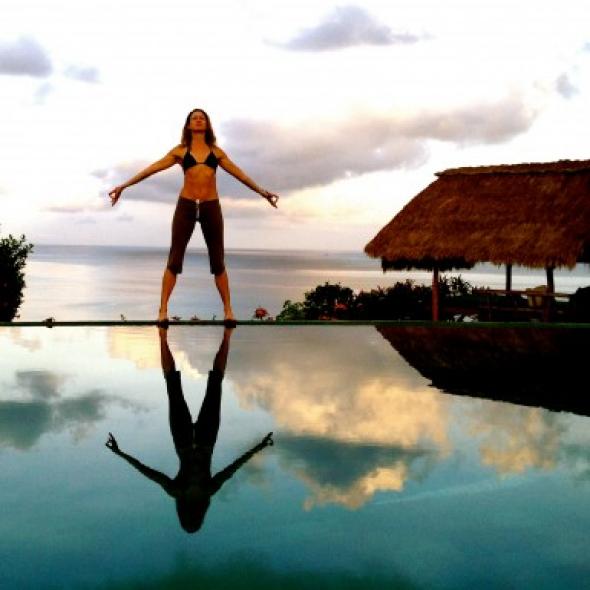 Janet Stone's studentship began at 17 under the meditation teachings of Prem Rawat. His reverence for simplicity and finding joy in the rise and fall of life live on in her practice and teaching today. In 1996, she traveled to India, the birthplace of her grandfather, and became dedicated to the path of yoga. Janet blends the alchemy of her own practice with decades of studentship. She aspires not to teach but to allow the practice to emanate from her, letting awareness blend with movement and breath. Based in Bali and San Francisco, she leads immersions, retreats, workshops and more.
1. Please describe, or tell a story, about your first yoga class or yoga experience.
I was staying at a place that cost about 1.29USD a night in Varanasi, India and someone from the hostel was going to a yoga class and I was looking to shake off the effect of the Lariam, a ridiculous and most likely poisoning drug said to ward off malaria but which seemed mostly to cause wild dreams and liver dysfunction. So, off I went, what unfolded was mounds of judgement on what everyone was wearing, the idea that it was almost all Western travelers, so on and so forth. Until I lay myself down in savasana. When I stood back up, the world looked different. My eyes felt open in a way they never had. The senses awake but not grasping. The judgements, softened. Just breath.
2. Describe or narrate your first time teaching yoga. What do you recall?
I was still working in the film industry and had zero plans to teach yoga or to become a yoga teacher. A friend had asked me to fill in for them for some really great reason. After a bit of resisting, I showed up. I was oddly un-nervous and so deeply at ease. I simply spoke what I was in the middle of practicing, as if I was leading myself through this deep practice. The response at the end was overwhelming gratitude and we all seemed to melt a bit and the separation between us lessened.
3. Last time you took a yoga class or workshop, what were your impressions?
Gratitude for the teachings in their very many forms and expressions. In complete awe that we can express them with such unity and yet individuality.
4. Describe the last time you taught a class or workshop.
Just completed offering an immersion on Patanjali's Yamas and this is where we dive into the living and relevant relationship to these principles of Non-violence/Compassion, Truthfulness, Non-Stealing/Not taking more than is being given, Living in moderation, and Non-Grasping and how they relate to asana practice for sure but also to our daily living.
OM Hrim!