Printer-friendly version
Four Questions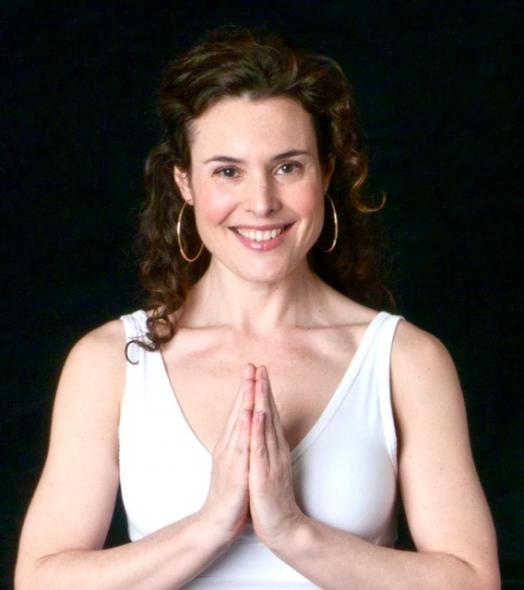 Jean Koerner is Yogiraj (Yoga Master) of ISHTA Yoga (Integrated sciences of Hatha, Tantra and Ayurveda) and has been teaching for over 20 years. Jean's inspiring, well rounded classes are open to students of all levels. They include a combination of breath based movement and longer holding poses as well as pranayama (breathing techniques) and meditation. Jean clearly and articulately guides students through the poses while infusing the class with yoga philosophy and concepts. Formerly a co-owner of Be Yoga Studios in Manhattan, Jean developed teacher training programs for two major yoga studios, Yoga Works and Be Yoga. Jean teaches in NYC. She has been featured in many magazines highlighting her yoga career and has also been in over 30 nationally televised Yoga Zone episodes available on DVD. Jean is featured on the websites mindbodygreen, iyogalife and The Happiness Series. She also incorporates Restorative Yoga, Bodytuning, and Ishta Marma Therapy into her teaching. She is a Reiki Master, certified in The Raindrop Technique, Kids Yoga and Prenatal Yoga. She is an Adjunct Professor at St Francis College and is getting her masters in Modern Psychoanalysis.
1. Please describe, or tell a story, about your first yoga class or yoga experience. 
My first yoga class was after college in 1988. The aerobics craze was going strong; however, I sought out the slower pace of the one yoga class that was offered per week in those days. I had back surgery in 1992, used yoga to recover by attending class daily, and a few months later was asked to teach by my teacher. I was lucky enough to do my teacher training privately and taught my first class three weeks later.  
2. Describe or narrate your first time teaching yoga. What do you recall?
I remember practice teaching my first class on my close friend. The one hour class took double that time to teach. I had learned practicing on my teachers so when I was in front of the typical tight guy, I was at a loss. Despite feeling inadequate, he loved it and still practices today. What helped me to get over the initial fear and feelings of not being ready or good enough was greatly due to my teachers. They empowered me to go out and start. They said that even though I still have a lot to learn, I know more than most of the students that will be coming to class. This was true. I try to pass this on to teachers today...especially with the extensive teacher training programs that we have these days...they are ready! They can do this! They will know more than many of the students. Teach what you own. Below are photos of my first book that I used to enter in my students and keep track of their payments. It was before the computer days and the yoga boom.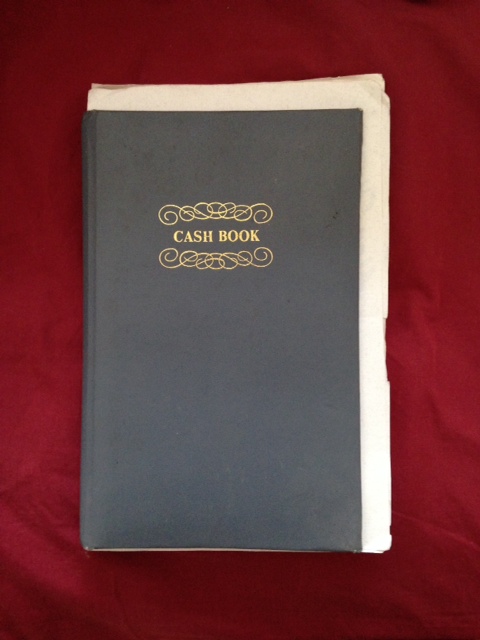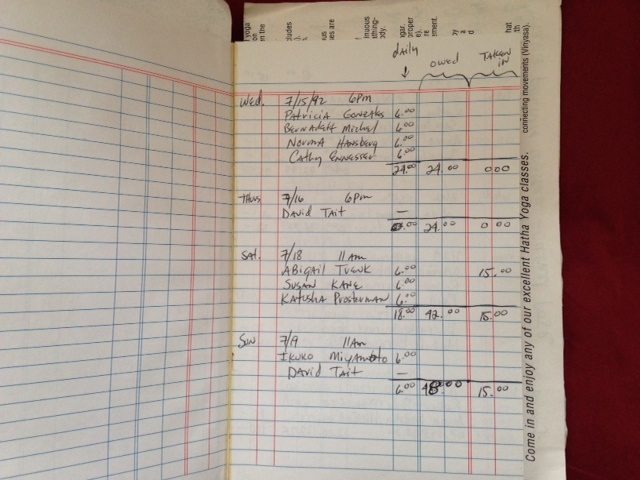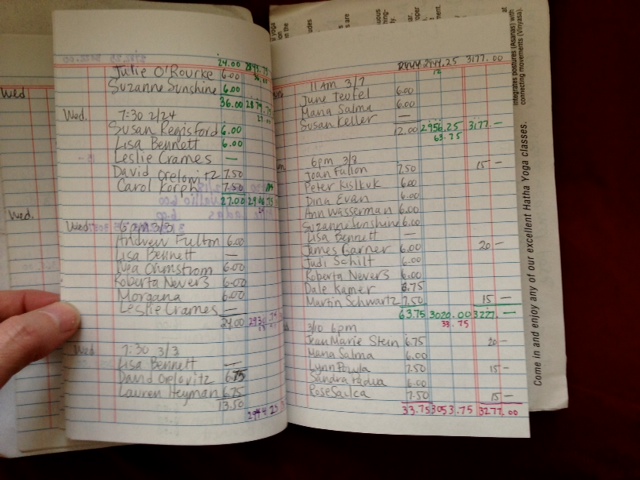 3. Last time you took a yoga class or workshop, what were your impressions? 
The last class I took was a meditation class last week. The last workshop I attended, I organized for my teacher Glenn Black. Well, actually, the last workshop I attended was yesterday. It was Essential Oils for the Winter Months, an essential oils workshop yesterday with my oil teacher and that was extremely informative. I love to use the oils in my classes. My teacher passes the oils around and explains their uses from a clinical and therapeutic perspective. It is an entire science that, like yoga, can be healing and transformational, and together, they are an extremely powerful combination.
4. Describe the last time you taught a class or workshop.
What I am most excited about is a mentor group that I just launched specifically for yoga teachers.  The first meeting is March 8th. It's called Mentea. The name was inspired by the many meetings where I mentor teachers over tea. It's mentoring and tea. Now this will happen in a group and teachers will receive peer feedback and ideas from me as well. Mentea is an ongoing teacher training environment and teachers will continue to work on their teaching skills, advanced techniques and concepts, and learn more about the business of yoga and teaching opportunities and of course, there will be tea. I just finished up a workshop series of 108 yoga poses at the wall. It was a series for yoga teachers on incorporating the wall into their classes. I'm teaching a workshop this Sunday for Valentines Day. It will include yoga and essential oils and will remove barriers in each of the energy centers.