Printer-friendly version
Four Questions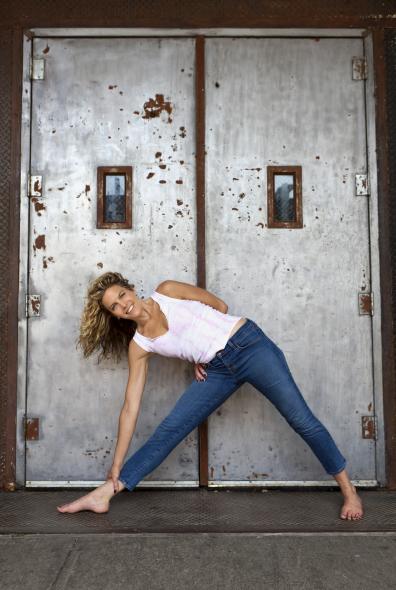 Jodie has been teaching yoga for two decades throughout New York,California and abroad. She is a Senior Teacher Trainer and Manager of Trainer Development for YogaWorks in NYC and leads both the 200 and 300 hour Teacher Training at YogaWorks. She travels internationally each year leading Teacher Training, Retreats and Workshops. Jodie is the co-author of The Art of Yoga Sequencing and currently resides in NYC teaching exclusively for YogaWorks, as well as privately.
1. Please describe, or tell a story, about your first yoga class or yoga experience.
My first yoga class or "yoga experience" was in 1993. I was 23 years old, in graduate school getting my Masters degree in Performing Arts at Rhode Island College, while attending a two year conservatory program at Trinity Rep. My performing arts teachers would do Sun Salutations with us as a warm up for our acting classes. I had no idea that it was yoga, really, or what it was. To me, it was simply a warm up exercise.
Later I was introduced to the Iyengar method via my psychotherapist who was the coolest woman on earth and an Iyengar teacher who I idolized . It wasn't until I moved to New York City in 1995 that I took my first full yoga class at Yoga Zone in 1995, on 19th street and 5th avenue, which is now a YogaWorks studio. I remember feeling like I had just come home to something. It felt so familiar and different from just exercise or dance which I had been accustomed to. It touched something deep inside me I couldn't articulate at the time, so I simply cried while lying in supported Matseyasana (fish pose). Even though I had no words or articulation for the feelings and sensations arising in my body I knew I needed to go back. Twenty years later, here I am.
2. Describe or narrate your first time teaching yoga. What do you recall?
My first time teaching yoga was after my first teacher training in 1995 with Alan Finger at Yoga Zone. After completing the Teacher Training I worked behind the desk and was asked to teach three classes on the schedule, Monday, Wednesday and Friday at 4:30. I don't recall my very first class but I can remember that time and can recall certain students. I was excited. I felt I had found something greater than my dance and acting career (which at that time wasn't a career but still a dream). I felt confident because I had taught dance and was comfortable being in front of people due to my background in performance. All I can remember is wanting to figure out how I could teach more classes so I didn't have to waitress anymore!
3. Last time you took a yoga class or workshop, what were your impressions?
I took a class with one of my dear teachers Rodney Yee about one month ago when he was in town. To me, Rodney is yoga. Everything about him and the way he teaches oozes the deeper dimensions of this practice. I am inspired not only by his example to "walk the talk" but his poetic flawless and precise way of bringing you step by step through an asana. He is a master teacher, and someone I deeply admire and have studied with off and on since 1997 living, teaching and practicing in California. What I often recall feeling at the end of one of Rodney's class is simply a deep surrender and appreciation for the practice. And love, just pure love and passion. I always feel safe and taken care of.  Each time I arrive to class and sit on my mat, I feel the stress drop away just being in his quiet steady presence before class even begins. You can feel when he teaches, that he himself, had felt, studied, and investigated every aspect of the asana. It's rare to find these teachers nowadays. I feel blessed, forever humbled and grateful.
4. Describe the last time you taught a class or workshop.
I teach every day so it's not too difficult to recall :). I just taught a class this afternoon and taught a workshop a few weeks ago. I read a quote by Aristotle in my class today: "We are what we repeatedly do; excellence then is not an act but a habit." I adore this quote. It reminds me of a teaching in The Upanishads, "Watch your thoughts, they become your actions; watch your actions, they become your habits; watch your habits, they become your character; watch your character, it becomes your destiny." So I emphasized today the importance of Svadhyaya, careful observation of one's thoughts and actions, and how that begins to manifest and create our reality. So everything becomes a meditation. Our whole life becomes a meditation, not just when we show up on our mat to take class.