Printer-friendly version
Four Questions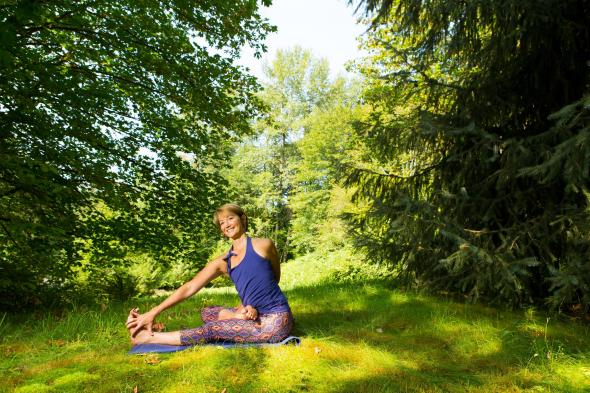 After four years of practicing yoga, Kelley began teaching in 1995. She has studied extensively in the traditions of Forrest Yoga, Iyengar Yoga, Viniyoga and Vinyasa Yoga. KELLEY LOVES TO TEACH!! She is passionate about Yoga, and lives to inspire and connect with people on and off the mat! Her classes are tailored to build sacred community, while still remaining focused on the individual journey of every student! In 1998, Kelley was certified as a Prenatal Yoga Instructor through the Seattle Holistic Center after an apprenticeship with Colette Crawford, RN. She then completed labor support training (doula) with icon Penny Simpkin through the Seattle Midwifery School. In 2000, Kelley completed an in-depth teacher training with renowned yoga master Ana Forrest, and actively assists and co-teaches with Ana in workshops and teacher trainings. In 2003, she completed an Advanced Vinyasa Training with Shiva Rea. In 2007, Kelley was hand-picked by Ana Forrest to be a Forrest Yoga Mentor teacher and Guardian to the Forrest Yoga Legacy. In 2012, Kelley's dream of completing and assisting in the Forrest Yoga Advanced Training became a fantabulous reality! Just this year Kelley co-taught with her Mentor Ana Forrest the same advanced training, which was a HUGE honor! It has been her devotion to and relationship with Forrest Yoga that has helped her go beyond healing from breast cancer, a heart condition and chronic back pain. Forrest Yoga has taught her HOW to authentically Live and Teach each day in Gratitude!
1. Please describe, or tell a story, about your first yoga class or yoga experience. 
My first experience in a class was in a small country school gymnasium with an Iyengar teacher back in the early 90's. Two of my dear friends brought me and had loved practicing since college. This was a perfect style for my beginning in that I grew up in the military and our teacher was fairly strict, so it was strangely familiar. My body was a bit crooked from mild scoliosis, so she had me the majority of the class on the wall for alignment. I felt so off center, self-conscious and disconnected from my body, at first.  Over time I started realizing how much this was a strong mirror for my life and I was committed!
2. Describe or narrate your first time teaching yoga. What do you recall?
The first time I taught a Yoga class, my teacher was sick and asked me to sub last minute to my fellow classmates. I was so nervous and terrified, as I was had a huge fear of speaking in public and feeling like what I had to offer would be good enough or "correct sequencing". It was a bit shaky at first, but all was going pretty good. The Students were listening and seem to be enjoying their practice….until I had them stand up, I demo'd Warrior 2 and farted. All I could do was crack up laughing! I tried to play it off at first, like I made the sound with my foot, but I couldn't stop laughing! They cracked up with me, and I totally remember saying "Well that's an ice breaker?" I will cherish that moment forever!
3. Last time you took a yoga class or workshop, what were your impressions? 
The last workshop I took felt like such a relief to practice and pay attention to my breath. My teacher, Ana Forrest, gave so much time to savor silence and to feel the medicine in each moment. It felt precious.
4. Describe the last time you taught a class or workshop. 
The last workshop I taught was on Arm Balancing and Inversions. I had canceled, rescheduled, and procrastinated in designing this workshop because I was in my shit about "not good enough", i.e. "I don't have a fancy practice", "I am still using the wall", etc. ( OLD TAPE). As my teacher says, "Never waste a good trigger!" I promised myself, no matter how low the attendance, I would show up, be present, authentic, and vulnerable. I designed an intro to inversions playshop (as I retitled it) because in checking in with my heart, that is what I love to teach! One of my gifts is calling the realness out, breaking things down, offering many different simple options for every body and helping others change their story. As it turned out, the students voiced in opening circle how terrified they were, or how they never learned to love inverting. It was wonderful, and we all learned a lot and had a wonderful connection. Beauty in the breakdown.