Printer-friendly version
Gail Hamlin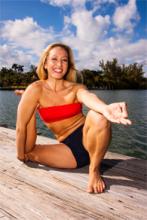 Introduction to Second Series
If you were in New York City this past weekend and had the opportunity to catch Kino MacGregor's workshops at Pure Yoga, like me, you're probably still recovering from the soreness of using muscles you never knew you possessed. To say it bluntly, Kino is intense.
Saturday morning's lead Primary Series proceeded exactly the way every other traditionally-led Ashtanga class does. But when Kino is leading, there's no escaping her shrewd eye - she lets no one off the hook. Her dedication to her practice and teaching shone through as she directed students through proper breath and alignment. She also seemed to enjoy taking her time with her counts, drawing out each asana. One particular instance was during Navasana. Not only did she hold the pose for the typical five counts (practiced in five sets of five counts, broken up by Tolasana between each set), she prolonged the counts and held us in the asana for as long as she could. Just when we thought we'd had enough, she also made us hold Chaturanga longer towards the end of the series. Whoa, tough teacher, indeed!
The afternoon session of Ashtanga Power Elements deconstructed some of the finer points of the Ashtanga practice. Namely, jumping to a seated position from Downward Facing Dog as well as lifting up and jumping back to Chaturanga. All these years, I thought I'd been doing it right but Kino showed me something. We moved painstakingly step by step through the entire process until we were practicing the jump-through and jump-back continuously. Just when I thought my wrists would give out, class was blissfully over.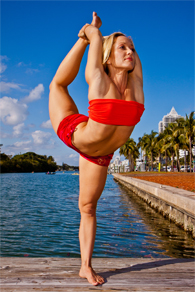 Sunday morning's Introduction to Second Series was no less intense than Saturday's sessions. Since Kino had yet to teach the Fearless Backbends portion of her workshops (set for later that afternoon), she cut out all the backbends that start off the Second Series. And, luckily, since class was an "introduction," she allowed for modifications for the asanas we covered. We started in Pasasana and Krounchasana, then wound our way through Bharadvajasana and Ardha Matsyendrasana. Bakasana was a particularly fun point as Kino deconstructed the transition from Downdog jumping into Bakasana. I could see it was a tough shift for everyone, so at least I was in good company. Class ended with Eka Pada Sirsasana, possibly half the students fitting ankle behind the head.
As a longtime student of Ashtanga yoga, I have to say Kino led each class with clear authority and knowledge of the practice. She broke down the asanas into workable exercises that led students in a safe manner. Overall though, I have to say her teaching style was intense and probably not what I'd prefer in my day-to-day practice. Ashtanga yoga works really well when you find the right (Authorized) teacher. I took away some great material to work on in my own practice; however, as with all things, some work for you and some don't. While I'm glad I attended the workshops, I'm really relieved it's over so I can recover.
I would also add that Kino's approach to teaching this traditional form of yoga is merely one of many. Pattabhi Jois taught countless students during his time in Mysore. Kino's manner of teaching is what she took away from her time with Jois. However, practice Primary Series with Eddie Stern or John Campbell and get heavy doses of Sanskrit. Practice with Richard Freeman and prepare yourself for intense philosophy. With David Swenson the emphasis is on the breath. Experience David Williams and enjoy his "Aloha" attitude and hippie style.
So which approach is "right"? My short answer would be the one that resonates with you. It's true too that over several decades the Ashtanga practice has been modified numerous times. Does this make it any less authentic? Is it right to hold students back until a particular asana is "perfected"? My takeaway from Kino is she would say yes. She believes students do not move further into their Ashtanga practice until each asana in sequence is achieved. Ask other Ashtanga teachers and they'll caution against holding students back for too long a time as it begins to create obsessions with the asana itself, not to mention negative body images and the potential for serious injury.
Do I think Kino is reckless in her teaching? Hardly. However I have to admit I consider myself blessed to have had John Campbell as my teacher. He has been clear in his explanations of traditional practice and what I needed to accomplish that, yet knew how to speak to me in a way that resonated well and I just did it, no questions asked. He advanced me through Primary Series despite requiring his assistance to achieve the full bind in Marichyasana D for months on end. With daily practice I finally got it on my own.
In conclusion my feeling is still rather on the fence about what physical asana practice should be in a modern sense and whether or not we're taking things just a little bit too far. Yes, you need to put in the work for the transformation to occur. But should it come at the cost of physical injury to our bodies? Some bodies are simply not made for certain asanas, regardless how many hours of practice one puts in. And why do we do this? Shouldn't our yoga practice begin with showing respect to ourselves first? Isn't that the start on the path to samadhi? Can I still achieve samadhi if I fail to complete the bind in Marichyasana D?
As mentioned I think Kino is a fine teacher ‒ albeit tough. Based on my experiences in her weekend workshops it's simply more than my body could handle. Does this mean I should stop practicing Ashtanga altogether? No, not likely. It merely signals to me that my focus needs to be on practice by means that are meaningful to me. I knew from my first Ashtanga experience with John Campbell that I'd found the "right" teacher to lead and educate me in this classic form of yoga. After my first experience of Ashtanga with Kino MacGregor I needed a significant amount of rest and recovery.

Gail Hamlin, E-RYT-200, RYT-500-hour, began her yoga practice in 2001. Gail studies and teaches Ashtanga yoga and therapeutics. You can catch her classes at Yo Yoga!, Zen & Yoga (in Forest Hills, Queens), and Pure Yoga. Check out her website here.