Printer-friendly version
Four Questions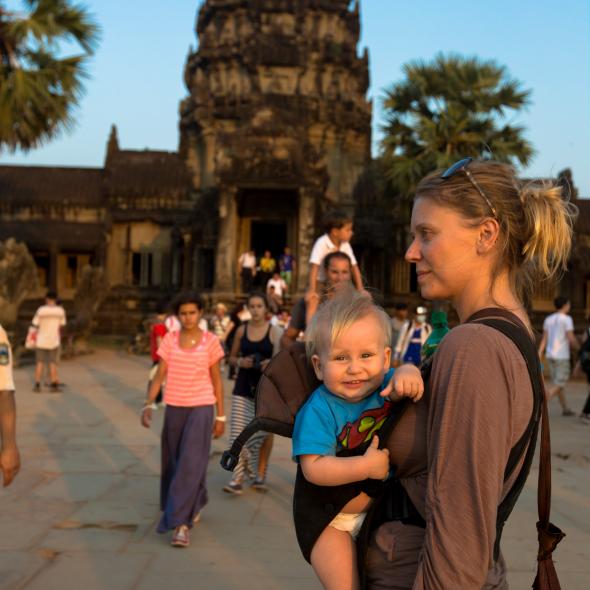 Linda is a mother, traveller, writer, photographer and yogini living on the small Mediterranean island Ibiza. Her website is www.lindadreams.com.
1. Please describe, or tell a story, about your first yoga class or yoga experience.
It was an absolute disaster. I hated the teacher, I hated the yoga positions. 
Yoga was just something on my list of many things that I wanted to try. I was 23 and on a mission to discover life and everything about it. To "get to know myself" was high up there and I thought maybe yoga would be a good way to get to that goal, because that's what I'd heard and read about it. 
So I signed up for this class in my home town, where you had to sign up for a whole semester, coming once a week, to this beginner's introduction course. Very inflexible conditions and no room for drop-ins or spontaneity. 
It was a Satyananda School, with connections to Sivananda, so quite traditional, and with each class divided clearly into sections of meditation, pranayama, asana, and yoga nidra. 
The room was a dry office room with chairs and tables piled up along the sides, and the teacher was Danish but had lived in Sweden for a while ‒ and still refused to speak Swedish. That was the first annoying part, because Danes understand Swedes but not the other way around. Us Swedes feel very stupid about it, but truth is, their language is almost the same as ours on paper, but when they talk, they have just decided to fill up their whole mouth with porridge to make every word impossible to figure out. 
So just trying to understand what he was saying was annoying and difficult. And the second annoying thing was that he was just sitting there. He didn't show us anything ‒ he just expected us to follow his verbally impossible instructions, while he sat there, dressed in orange, in full Lotus pose. 
So I just followed the people in front of me, and got more than a few (verbal) corrections from the orange guy. 
One of the last asanas we did was Paschimottanasana, and while in that pose, listening to the extremely annoying voice of the Orange Lotus Guy, I was in such agony and pain at the backs of my stiff legs, I suffered so much physically and mentally, but then and there, I had some kind of a revelation. (Or whatever you can call it. A crack? Light shining into a crack at the backs of my legs?) I realised the resistance and the reaction that this thing called yoga was giving me. It upset me, it challenged me. It made me angry, annoyed, it challenged me in many ways, and it made me aware of my anger and annoyance and how challenged I was.
And that interested me deeply. What was it about this thing called yoga that was doing so many things to me at the same time?
Lying there after the asana section, in Yoga Nidra, I couldn't relax. I kept my eyes open and they moved around the room, looking at the other participants. Seeing only relaxed-looking bodies around me, I started wondering what the hell was wrong with me. Why was I like this? Angry, judgemental, annoyed? And why did I have such incredible stiff hamstrings? 
I guess being a competitive person, this challenged me into diving deeper into this practice called yoga. I hated the teacher each and every of the 10 classes, but the things I went through inside myself were interesting, to say the least. And these 10 classes were the beginning of a life-long journey and exploration (still with much anger, annoyance and challenge involved).
2. Describe or narrate your first time teaching yoga. What do you recall?
The first time I taught yoga, I didn't really teach yoga. I taught a kirtan class. 
I was deep into my extreme phase of discovering yoga, meditation, pranayama, veganism, rawfoodism, kirtans, yoga philosophy ‒ the whole world of yoga was my world. 
I was in a relationship with an older yoga teacher, a half indian, very attractive man, who had a lot of female students who adored him. He was a travelling yogi, and one of his places was the Greek island of Skyros, where there's a community that focuses on holistic holidays where you take courses throughout your stay, and eat together, and stay together as a community in a beautiful little cove with crystal clear waters and amazing sunsets. 
I came with him to this community, where he was a respected teacher of yoga and djembe drums. He had just recently got into doing kirtans, and we had written a few together, in London and Chicago. We both enjoyed the feeling of elevation and happiness we got from singing Sanskrit mantras in a group, often getting up to dance ecstatically together, like proper weirdos should do. 
One morning at the Skyros community, he had been accidentally double booked for teaching both a yoga class and a kirtan. The immediate solution was that he would go and teach the yoga class, and I would lead the kirtan. I was not yet a yoga teacher, but my whole life was about yoga, and if anyone knew these chants well ‒ well, it was me. I was currently doing a course in Sanskrit at my university, and I listened to CDs with those chants every day. 
So I accepted the challenge even though I didn't really want to do it, but I was left with no choice as my boyfriend ran quickly with his purple clothes and yoga mat under his arms to the yoga space at the back ‒ the one covered in fragrant figs falling from the trees above it. 
I had all the papers in front of me, I lit the incense, and I sat down in Lotus pose to prepare. The people arrived on time, excited and tired at the same time, as it was very early in the morning. Everyone was a bit nervous, as it was indeed a weird thing they were about to do, singing Sanskrit mantras together in a group. Well, being in this place had made them do all these other weird things anyway. Most people were open to trying. 
I think the kirtan went well. I don't remember too many details. I only remember my own inner extreme excitement and nervousness at hearing my own voice "guiding" other people. It was exhilarating and very strange at the same time. 
Me, leading? Me, taking charge? And people "following" my instructions? So very strange!!
Afterwards, I felt like I had been on stage. I felt glowing and excited. I felt high. 
I barely remembered any details of what had happened, what had been said. We had sung, we had meditated, we had done some breathing exercises. The words had come out of me by themselves, as if from another source. I had no idea how it all had happened. And I wasn't sure I could do it again. 
3. Last time you took a yoga class or workshop, what were your impressions?
Last time I took a yoga class… Ahhh! I need to explain: I'm a mother of a very energetic toddler, and I'm pregnant. 
I live on the small Mediterranean island of Ibiza, where there aren't many yoga classes. 
So when I heard that
Emma Henry
, one of the teachers from the Jivamukti London Centre (where I worked for three years) was coming to Ibiza to do a retreat, I knew I had to try and go to a class. I managed the last morning to arrange myself and husband and baby and I drove off, early in the morning, to take Emma's class at a beautiful little retreat on the sunrise side of the island. 
The class was quite hard (but I was only 3 months pregnant and still strong) and long, too. It was absolutely amazing to be there, on my mat, seeing the sun slowly climb up in the sky, surrounded by flowers and the sounds of the birds, and amazing Emma's class. She used to be a great teacher years ago when I took her classes at the yoga centre, but now she had turned into a really sophisticated and skilled teacher of yoga, and it was such a joy and pleasure to be guided by her. I also of course enjoyed every moment of being on my own, taking time for myself, and disconnecting from everything. 
4. Describe the last time you taught a class or workshop.
The last time I taught a yoga class was such a relief because it was a last time!
I had been teaching two weeks straight at the Ibiza Yoga Retreat in the north of this island. 
People come for a week of yoga and sun, and the classes are three long hours in the morning. The drive to get there is 30 minutes. So I had to leave pretty early in the morning, driving this half hour to get there, and then teaching three hours, in the heat of summer Ibiza. And I did this for two weeks. For very low pay, if you break it down and consider overhead. 
I was exhausted. I didn't know at the time, but I was pregnant again. I was so busy with all the other things I do on the island in the summer. It was HOT. Three hours of yoga is too long. 
During this time some of my friends also decided to come visit me and the island, so every day I was socialising, taking people around the island, and not to mention my 1.5 year old and all his energy. 
So the last class of all these 12 classes in 14 days, was a big relief, and also a conscious decision to stop teaching yoga. The money was so low in comparison with the time and energy I spent on the teaching, and the other things I dedicate myself on the island professionally are just so much easier and less time and energy consuming. 
These weeks exhausted me completely and made me see the yoga as something only rich people can have as a profession. Well I think people CAN survive on teaching yoga here, but they have to be quite superstar-ish to manage. For me, it's just hard work, with very little payoff. 
However, my relationship with yoga will never end. I already have a private class booked for May. I will do that kind of thing‒ random, private events or sessions. I cannot just terminate everything to do with yoga, I know that. I tried many times, but it just keeps bouncing back into my life.