Printer-friendly version
by Yogini Tiff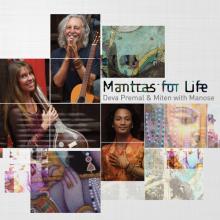 Mantra singer Deva Premal & Miten with Manose have released a new album, Mantras for Life. The album was created as a support for mantra practice and has twelve tracks, twelve mantras, that are repeated 108 times in keeping with sacred tradition.
The album includes chants to invoke specific intentions, including blessing of children, blessing of animals, perfect timing, devotion, and gratitude. There is even a mantra to help one find lost things.
One of the things I really appreciate about this album is the album's guide. Not only are the mantras written in Sanskrit, which make chanting along accessible to anyone, but they are also translated into English. In addition, each mantra has a through explanation of the purpose, energy and dedication, providing for an even greater knowledge and understanding of the practice of mantra.
I listened to the album several times. I felt compelled to flow through several sun salutations while listening to the Hanuman Mantra, Strength through Devotion, track number 2.
Kumara Mantra, track number 6, a mantra for blessing the children, actually brought me to tears. I picked up my beautiful six month old daughter, and slowly danced with her as I chanted the mantra softly in her ear.
Premal's vocals, the ambient musical accompaniment, combined with the potent beauty of the mantras themselves, provide deep inner healing and peace.
Whether new to mantra or an experienced practitioner, I highly recommend this beautiful and transformative album. Clearly, this album was made from a place of sincere bhakti (devotion).
To purchase, visit the website here. Also worth mentioning is Deva Premal and Miten's ongoing 21-Day Mantra Meditation Journey; find out more here.

Yogini Tiff is a mother, Reiki Master, writer, dancer, performer, teacher, dreamer, and gypsy. Currently she lives and teaches on the island of Santa Maria in the Azores, Portugal.