Printer-friendly version
by Gail Hamlin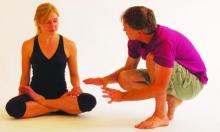 A few weeks ago I had the pleasure of first meeting Mark Stephens, who was leading a series of master classes at the Studio DC's Dupont Circle location ― though to be honest, I already felt like I knew him from having the opportunity to read (and re-read) his first two books (Teaching Yoga and Yoga Sequencing) and then interviewing him for Yoga Teacher Magazine. Yes, I am a lucky gal.
It was a packed weekend with extensive ground covered on sequencing (with great emphasis on moving from simple to complex, dynamic to static; cultivating energetic balance). The first master class kicked off with Surya Namaskar (Classical, Sun A and Sun B). Mark got into detailed alignment with the most basic of basic sun salutations. It was a particular treat that while much of this was review for most, Mark's sense of humor and perspective brought new insight into this healing and strengthening practice. The first class was a generous mix of theory and asana.
Saturday though...with a focus on backbending, included a challenging class at the apex. We bent in one way, then another, opening deeper and deeper throughout (putting into practice the theory on moving from simple to complex, dynamic to static). Mark's goal of reaching our peak pose in this class, Eka Pada Rajakapotasana, was not reached. Frankly, I couldn't have been happier to skip an asana! Working deeper throughout the sequence, I ended up in a puddle of my own perspiration barely halfway through the practice, exhausted and desperate to pause yet unwilling to do so. However, being a believer myself in honoring my body, I chose to opt out of the deep opening that Eka Pada Rajakapotasana offered. As it turned out, so did 80% of those assembled.
Mark, clearly not a fan of hot yoga using external heat sources, is apparently a big fan of generating internal heat. He made several comments about not needing external heat ― and looking out into the room to a wilting and heavily perspiring group, no guesswork involved! Clearly we were warmed up enough to manage the peak pose, but we'd worked so hard to get there, most of us were too tired to do more. I'd never been so grateful for Balasana!
The act of skipping the peak pose however, only reinforces Mark's belief that teachers must be in tune with what's happening with students – to know when to encourage and challenge, and when to move on to something else.
Sunday's classes were a combination of ideas. We further revisited Surya Namaskar and also the idea of integration in a yoga practice. We started early on Sunday and as Mark asked how we were feeling, he delved deeper into why integration is an important part of a yoga practice. It's important to know how students are feeling after a yoga class. Students should be feeling calm, sattvic.  This echoes the themes running through his books.
The final master class ended in an inversion practice.  Despite the ambitious intention to cover a bevvy of arm balances and inversions, Mark thought it more important to review our classes and lectures thus far. Still, we had time towards the end for Adho Mukha Vrksasana. Working in pairs, we took turns assisting then practicing our handstands. Again we finished invigorated.
What a weekend it was. Personally, it was a real treat to finally meet Mark face-to-face. I walked away having learned a lot – as well as receiving confirmation for the practicing principles I walked in with. I look forward to reading Mark's new book when it's released in June, 2014.
Gail Hamlin, a 500-hour RYT, began her yoga practice in 2001. Certified in 2010, Gail studies and teaches Ashtanga yoga and therapeutics. You can catch her Hot Yoga and all-level Vinyasa classes at Zen & Yoga in Queens, and at NY Loves Yoga, Yo Yoga!, and Pure Yoga in Manhattan.