Printer-friendly version
Four Questions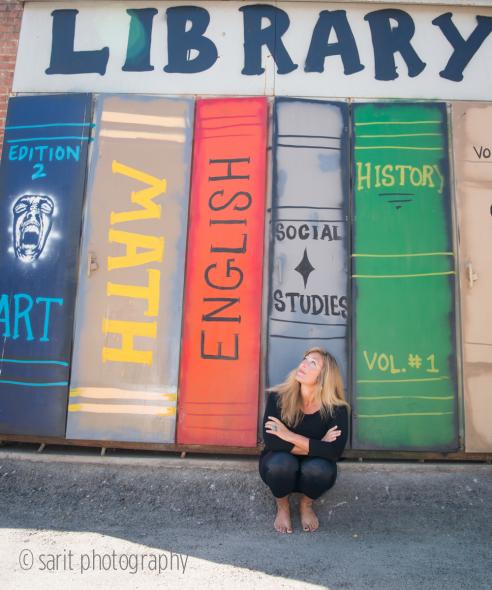 Melanie Klein, M.A., is a writer, speaker and Professor of Sociology and Women's Studies at Santa Monica College. She is a contributing author in 21st Century Yoga: Culture, Politics and Practice and is featured in Conversations with Modern Yogis. She is the co-editor of Yoga and Body Image: 25 Personal Stories About Beauty, Bravery + Loving Your Body and co-founder of the Yoga and Body Image Coalition. A body image activist and media literacy advocate, she is the founder of the Los Angeles chapter of Women, Action and the Media, is on the board of Global Girl Media and the Brave Girls Alliance and she has worked with Proud2Bme.org and the National Eating Disorders Association. Her work has been featured at Ms. Magazine, Feministing, Yoga International, Yoga Journal, LA Yoga Magazine, Adios Barbie and Mantra Yoga + Health Magazine. All photos of Melanie courtesy/copyright Sarit Photography.
1. Please describe, or tell a story, about your first yoga class or yoga experience.
My sister took me to my first yoga class in 1996, a Kundalini yoga class offered through a local community college's community extension program, located in a big warehouse beside a set of railroad tracks filled with outdated fitness equipment. I remember giggling as we were led through a series of kriyas and chants. But I continued to go back to class week after week sometimes stifling laughter and at other times letting the chuckles roll out as we chanted "Sat Nam." While our teacher may have assumed we weren't taking this seriously (and probably got sick of us more than once), I was definitely feeling a change in my being, despite the fact I couldn't pinpoint or define those changes at the time. The one physical change I do recall quite explicitly was the sensation between my ribs ‒ my intercostal muscles were sore from the deep belly breathing and expansion of my rib cage. I began to contemplate the power and simplicity of breath and that inspired me to continue. 
We maintained this routine for a year ‒ registering for each 8-week cycle the college offered. Eventually, taking class once a week with gaps in between cycles just wasn't adequate and my thirst for the practice led me to seek out other studios. This was no easy feat in 1997, even in Los Angeles. There were very few studios to choose from. And only two studios offered Kundalini, the practice I was now accustomed to and sought to continue. Unfortunately, those studios, Yoga West LA and Golden Bridge LA, were both "over the hill" from the outlying suburb I was living in at the time. Disappointed and frustrated, my friend suggested an "over the hill" studio that might be more convenient for me. While I scoffed at the idea of a "power yoga" class, I let her take me to Bryan Kest's class in Santa Monica. 
And the rest is history. There was no mistake about it for me, I was home ‒ I had been led to the right teacher and the perfect practice for me at the time. And not much has changed. Bryan is still my main teacher, a mentor and dear friend that has had unprecedented influence on my work. I was honored to include his story on violent masculinity and male body image in
Yoga and Body Image: 25 Personal Stories About Beauty, Bravery + Loving Your Body
. He has a lot of wisdom and decades of experience to offer.
2. Describe or narrate your first time teaching yoga. What do you recall? 
While I received my yoga teacher training certification from the White Lotus Foundation with Ganga White and Tracy Rich in 2001, I only taught postural yoga classes during graduate school. After graduate school, my academic teaching career blossomed quickly and I devoted my "teaching" energy into the traditional college classroom. 
But I've always viewed the heart of yoga as in alignment with my sociological imagination and feminist consciousness. For me, feminist ideology and praxis, the lens of sociology and yoga are all centered on raising consciousness – to become awake, whole and free. Sociology as an academic discipline, feminism as a movement to create social and political change, and yoga practice all entered my life within the same time frame and, for me, there was no mistake in the ways in which they complement and enhance one another. And they continue to supplement one another in my teaching and activism. In fact, I discussed "activism as spiritual practice" in an
interview
with Annika Martins recently. 
I entered the burgeoning yoga blogosphere in the summer of 2010 with my article, "
Feminism, Body Image and Yoga
". When given the opportunity write for a "yoga" blog, I was excited to finally bring the most influential and inspiring aspects of my personal and professional life – feminism and yoga – together. And that first article opened a world of possibilities that manifested in the publication of
Yoga and Body Image
with my co-editor,
Anna Guest-Jelley
, and allowed me be find a community of like-minded yogis, many of whom are now part of the Yoga and Body Image Coalition.  
There are lots of inspiring and talented people teaching yoga and meditation in the traditional sense. I am comfortable and happy to straddle those worlds and exist in the center – bringing feminism and conscious activism to yoga culture and bringing mindfulness practices into feminism and social justice work.
3. Last time you took a yoga class or workshop, what were your impressions?
My last class was with Bryan. What strikes me these days is that as much as things change, there are fundamental truths and connections that remain unfettered. While my body and my practice has changed over the last 19 years, the benefits remain the same ‒ the clarity, focus, increased energy and freedom in my body are still there. While the space Bryan teaches in (and where I practiced for well over a decade with the same people year after year) has changed, the deep sense of community, connection and his rhetoric remain the same and they are as fulfilling and useful as ever. There's incredible beauty in moving through life's journey in a sacred community and practicing kindness and compassion as your body ages and changes. All those lessons, insights and benefits remain steady and strong.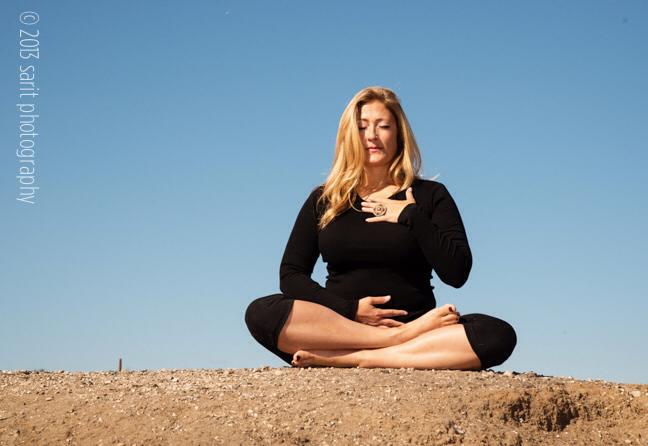 4. Describe the last time you taught a class or workshop.
I had the distinct honor of facilitating an interactive book reading and panel discussion on yoga and body image with Yoga and Body Image contributors, Rolf Gates and Dr. Melody Moore, at the MUSE Women's Conference in Bend, Oregon for a series of conference events to celebrate International Women's Day. It was the perfect example of bridging social justice work and activism with the realm of yoga. 
Upcoming events: