Printer-friendly version
by Ivan Nahem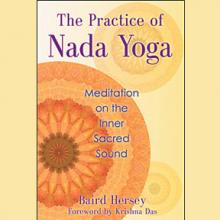 The Practice of Nada Yoga: Meditation on the Inner Sacred Sound is nearly too dense, like a deep rich gong tone. It's got a lot packed into it, and a cursory read isn't the way to go about it. It's more like a handbook, a manual, for a particular line of spiritual inquiry.
I was excited to find this book because I'm a fan of Baird Hersey's music. Great stuff for any yoga class context (I usually just play music before class these days). Hersey leads the choral group Prana, who have recorded with the more widely known singer Krishna Das. In fact for me their collaboration is the best work I know from either. (How many times have I hit Devi Puja??)
Nada Yoga is a path of aural and even synesthetic yogic exploration that dates back to earlier yogic texts such as the Hatha Yoga Pradipika. Hersey has adopted and has hopefully here contributed to a revivification of the form, with his quite unique and wizened outlook as a long-term practitioner.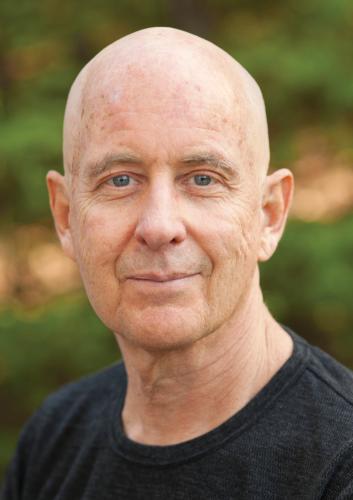 He believes sound to be a gateway to the sacred and transformational. The book could be a good companion of David Byrne's How Music Works; they delve into similar themes; take note, Amazon!
What makes the book like a manual is that each chapter explores a different element of this practice, often quite engaging, and then there are exercises designed to take you deeper. I sometimes wished for a clone to have the time to do all of them, but it would be a cool project on a vacation, say, doing it all systematically. In the meantime I did some, left others for later..
There are insights for each topic. For example, I especially enjoyed his analysis of acoustics. One of the exercises was the "listen to the shape of the room," and I've done that sometimes while teaching, sometimes before class, often during the chanting of aum.
Especially if you're a music/sound head and are attracted to the spiritual side of yoga, this is very highly recommended. Just for fun I just opened the book to look for a quote. This caught my attention: "Madhyama is all our mental sound. This includes sound memories, words we use to form speech, our internal dialogue, and words that paint mental pictures. Madhyama is the internal sounds of the mind." If this kind of thing makes sense to you (and I love it myself), go purchase this book right now!
Ivan is the founder/editor of YTM.