Printer-friendly version
Four Questions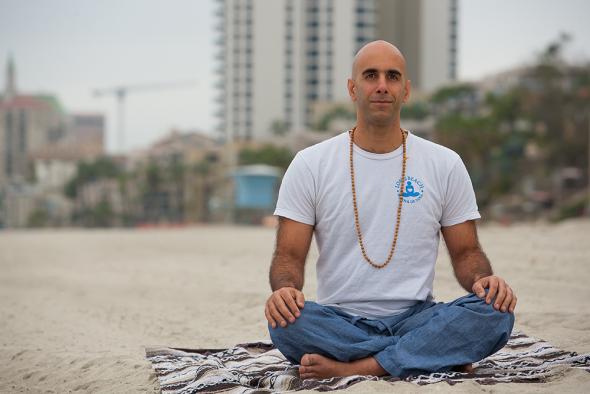 Ram Bhakt studied neurobiology at UC Berkeley. He was introduced to Integral Yoga at Yogaville Ashram in Virginia. At an Ayurvedic Yoga training course with Vedic practitioner Dr. David Frawley, Ram embraced the scholar as a role model that shared his worldview integrating his passion for psychology, medicine, music and philosophy. Traversing the globe to gain knowledge and experience, Ram studied Ayurveda with Dr. Lal Krishnan and Dr. Sundar Raman in India. He founded Long Beach School of Yoga to bring traditional teachings to those seeking it and to share the ancient wisdom that has helped him find physical, mental and spiritual well-being. Ram Bhakt is involved with building programs and educational outreach for community groups throughout Southern California by leading teacher training courses, workshops, retreats, Laughter Yoga and Kirtan.
1. Please describe, or tell a story, about your first yoga class or yoga experience.
At fourteen years old, I experienced Yoga for the first time finding my mother practicing from Richard Hittleman's Yoga: 28 Day Exercise Plan. Acknowledging my curiosity, she demonstrated postures to try together before guiding me into meditation. "Close your eyes and look at the lights you see." In a moment, the little "I" was no longer there ‒ like time travel for a kid! Invisibility, absolute peace and stillness for five minutes; I was absorbed in purity. When she brought me out of that state, I discovered our journey was actually fifteen minutes. What a wonderful gift, so innocent and simple. Tradition says mother is the first Guru, it is definitely true in my case. I was lucky to have such a loving and effortless introduction to Yoga and transcendence.
2. Describe or narrate your first time teaching yoga. What do you recall?
My first teaching experience was to lead a few Asanas during an after-work corporate Yoga class. I remember feeling a big existential responsibility for teaching the "art and science of Yoga." At the time, I was reading many philosophy books, thinking about non-duality and other esoteric knowledge that is of little use to beginning students. My mentor helped overcome my anxiety suggesting I teach a few classical sun salutations. I stopped over-thinking and just shared what I knew! From that experience, I realized a practical heart-opening lesson: most students are not there to judge the teacher's knowledge nor are they expecting a metaphysical epiphany. I now know that on a practical level we are here to motivate and get students moving and feeling their body and mind. Sometimes we academically inclined practitioners are overwhelmed to start teaching even though unpretentiously doing so removes fear and allows our practice and training to touch others.
3. Last time you took a yoga class or workshop, what were your impressions?
I recently reconnected with Erich Schiffmann. Erich is a seasoned teacher and profound and thoughtful Yogi and meditation leader. In class, Erich reviewed the foundations of Yoga practice in an engaging and humble style and addressed the big questions of consciousness and God. In his strong presence, we explored spontaneous self-generated Asanas. I broke into tears as I surrendered in that simple, nurturing yet intelligent and straight-forward environment. Later when meditating together, I felt the Dharshan of Erich's teachers. Practicing this moving meditation style with his long-time students was a pleasure. After class, I spoke with Erich about creativity and projects outside Yoga teaching. I left with a clear head and tall spine.
4. Describe the last time you taught a class or workshop.
Not long ago, I hosted a public Pranayama workshop that included my current teacher trainees. Following the opening invocation, we focused the first hour on the practicalities of developing a personal routine and adapting the practice to everyday life utilizing tools and wisdom from Ayurveda. Discussions ranged from Yoga theory and purpose to subtle body energy channels, the right and left sides of the brain, quality of sleep and managing fatigue and emotional disturbances. A graduate from my first teacher-training program shared her path and plans to bring Yoga to autistic children. I am so proud of her! To me the most rewarding aspect of teaching is connecting to the community and training others to share powerful and deeply healing tools like Pranayama which calm the mind and emotions and ultimately facilitate meditation.