Printer-friendly version
Jessica (TallGirlYogi)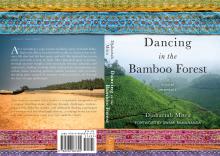 Djahariah was raised in the Santa Cruz area of Northern California, and in the first few pages of the book I suppose I had pictured a blonde hippy from the west coast that I see on a daily basis here in Orange County. As the book starts to set the stage for Djahariah's expedition in India, her family heritage reveals a melting pot of Russian, Indian, and English cultures after her ancestors moved around Europe and Southeast Asia.
The first chapter creates a stunning visual of the mountains of India, her visit to Mysore (and, spoiler alert: her very disappointing meeting with Pattabhi Jois), and some of her first impressions of the country that's the mecca for Western yogis. This documents her travel around India where she teaches yoga, finds love, and gains a better understanding of herself.
As the story develops, there is a wonderful educational component that parallels her journey: as Djahariah starts to explore yogic philosophies during her trip and try to "find herself", she explains the different limbs of yoga and dives into their definitions in ways that support her self-realization. Even a non-practitioner of yoga can follow along and appreciate the evolution of her exploration of these topics (prana, mindfulness, pratyahara, and others).
As she says: "The yamas and niyamas, yogic principles on how to live peacefully, teach us how to understand our behavior and our reactions…. Once reality is seen as bright as the sun, bliss is experienced. Well, that's one way to describe where the yogic path leads. For most of us it is a never-ending journey. "
Despite this, many of the Swamis at the Integral Yoga Institute in India were American expatriates. The multi-cultural institute where she studied for the first few weeks of the trip was run by older American women-turned-monks. Even here in India, yoga has influences from the western culture that has re-popularized the practice in the last fifty years.
Traveling abroad can be intimidating on your own, but abroad as a woman on your own introduces a number of new elements to this story. Women had to wear three layers of clothing on both the top and bottom of their bodies, which is unheard of in American culture. "It's funny until you have to dress in that custom every day without respite to protect yourself from men's inability to control themselves and society's lack of expectation for them to do so, if tempted.
With these challenges along the way, Djahariah encounters a number of yogis from around the world who all have different paths that brought them to the same place. It echoes the theme that we all are journeying for a different reason even if we have some of the same stops along the way. There were many heated discussions about adjustments from a yoga teacher, as touching certain people (across gender or social status) or parts of another's body (feet) are exceptionally taboo. Even in this environment, there were women who were oppressed by the Indian culture by what they wore or oppressed by their husbands (some of whom traveled along to the institute).
Djahariah also deals with an ongoing battle with endometriosis throughout the book, and at one point in her healing journey (which continues to evolve as she sees the world through other cultures' eyes) says "I didn't want to be defined by my body. I didn't want to be a woman. My body reminded me that I am a woman." This self-hatred bubbles to the surface occasionally throughout the book as she struggles with the same scrutinizing eye that many of us use on our selves.
As the materialistic and western layers start to fall away, less of those incriminating thoughts are seen in the text. To detail more of these stories would rob you of the colorful and vivid illustrations that Djahariah creates in this book!
The people and places that come up along this two month trip that turned into an 11-month journey are colorful, deep, and meaningful and I found myself growing attached to Djahariah throughout the book. This is a definite read for a yogi or non-yogi, traveler, or feminist (as Djahariah describes herself to be). Now available in paperback on Amazon and as an eBook wherever eBooks are sold.http://www.amazon.com/Dancing-Bamboo-Forest-Travel-Memoir/dp/0996087605/ref=tmm_pap_title_0?ie=UTF8&qid=1412779969&sr=8-1

Jessica Rienecker has been practicing yoga since 2009, and teaching since 2013 in Orange County, California. She focuses on intro level classes to help make yoga accessible to all fitness levels and body types.You can follow her on facebook at www.facebook.com/TallGirlYogi or her blog at www.tallgirlyogi.com. Jessica is Project Manager at Yoga Teacher Magazine.