Printer-friendly version
by Gail Hamlin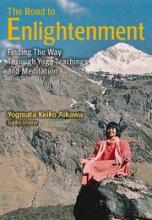 Yogmata Keiko Aikawa is not a person I know much about. Indeed, before sitting down to read her book The Road to Enlightenment: Finding the Way Through Yoga Teachings and Meditation, I'd never heard of her. However, since this is a book strongly related to yoga and its philosophy, I chose to go in with an open mind.
Before moving forward with the review, I must make mention of the major theme in the book: Samadhi being the end result and ultimate goal of meditation. The author makes relentless references to Samadhi, which she defines in a nutshell as: a state of Oneness with the Godhead. When one reaches Samadhi, one transcends body, mind, and spirit, and all vital activities including respiration and heartbeat stop.
While I admit Aikawa makes several valid points about a meditation practice and reaching Samadhi (which she does in an effort to bring about world peace, a valiant cause), overall I have to say I was underwhelmed by the book.  This makes my perspective on the book an interesting one to write about. 
It's interesting for several reasons: As I mentioned, Aikawa makes many valid points about meditation leading to the release of ego and becoming one with the true self (Atman), as well as how pursuing convenience only serves to poison the earth (for example continuing in the use of modern conveniences which contribute to environmental pollution which further aggravates natural disasters). Aikawa's notion that the mind should be "united with beautiful and respectful things in order to strengthen its vitality and become happy" is one that resonates with me – you must generate positive thoughts and energy in order to receive it back, making the world a better place. Releasing the things which bind us to the material (including our ego) is a big step to achieving Samadhi. After all, it's a big reason we practice yoga, right?
Well, that's where I diverge from Aikawa.
Now perhaps I'm missing losing something here in translation, or maybe my understanding of meditation and yoga practice simply differs – or maybe my knowledge is just that limited. I don't know. But it seems to me that the public displays of Samadhi that Aikawa demonstrated – to prove she's attained enlightenment – is on the self-serving side. Why does she need to do any of this publicly? Why does she need to prove anything? If she's entering Samadhi to bring about world peace, couldn't she do so in the privacy of her own home? What am I missing here?
Perhaps she's leaving out a good deal of her story here, but she talks about studying with a Siddha Master and all of a sudden just like that, she's attained Samadhi and remains there for days on end, repeatedly and for years. Then, she goes on to describe (in great detail I might add), that her public displays of Samadhi required significant police protection because people wanted to touch her and threw down flowers in her path as she walked by. The whole thing just smacks of ego to me.
I was unequivocally turned off to the book when about halfway through Aikawa mentions that the method for "abandoning all obsession and jealousy that needs to be relieved is the Anugraha Himalayan Samadhi Program". Is she actually making a sales pitch to the reader to achieve Samadhi? It doesn't end there either. She devotes several more pages to the importance of this program.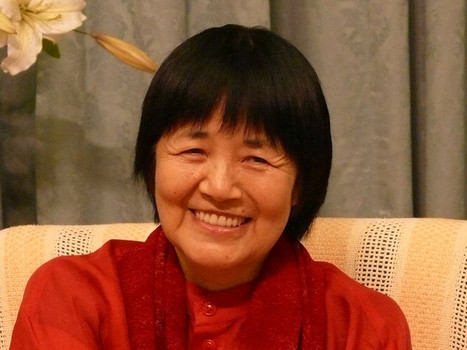 In conclusion, if you're looking for a book on the finer points of meditation and the many reasons it is important, this is a good book to back up what you probably already know. If you're a practicing yogi and meditation is a part of your daily practice I can't deny the author discusses many valid points about purifying the mind and body to achieve higher states of enlightenment. But my bottom line on it is this: it falls far short of expectations. And it might only be of interest if you want to learn about her personal journey. Certainly if you are a devotee it would be required reading. But I was disappointed.

Gail Hamlin, E-RYT-200, RYT-500-hour, began her yoga practice in 2001. Gail studies and teaches Ashtanga yoga and therapeutics. You can catch her classes at Yo Yoga!, Zen & Yoga (in Forest Hills, Queens), and Pure Yoga. Check out her website here.