Printer-friendly version
by Ivan Nahem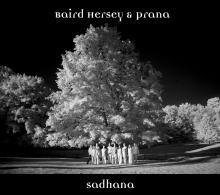 This is a music of depth, perception, and wisdom, a band with an individual sound.
Recently we reviewed Baird Hersey's book The Practice of Nada Yoga, Meditation on the Inner Sacred Sound, which illustrates the deep relationship between this music and yoga. "Nada yoga is the yoga of listening. It is a way to turn inward on a journey that may eventually lead you to enlightenment, but at the very least, nada yoga will fill your daily life with comfort, contentment, and what some call bliss."
Led by Hersey, the nine person vocal ensemble Prana has been performing together for over 15 years, meeting weekly to explore their music as a practice. They have worked with Grammy nominee Krishna Das, and he appears on one song in this collection. Prana performers are all recognized in their own right, with bulging resumes.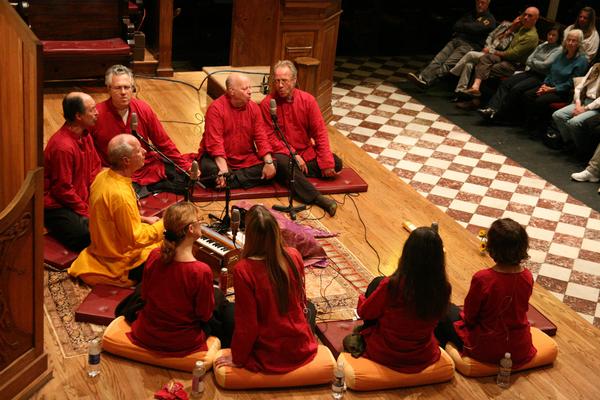 Sadhana, from Bent Records, is their  fourth LP. It is mainly devotional music; some of the songs use familiar mantras for text; "sadhana" can be translated as "spiritual practice". The unique sound comes from a limited number of tools, typically including choral vocals with gorgeous harmonies conceptually based on Tibetan Buddhist multiphonic chant and Tuvan throat singing; the occasional lead vocal, whistling and overtones, and Eastern percussion. In other words, only voices and percussion. Frequently one can hear streaming breathing as well (which might prove useful if played during a yoga class for encouraging audible breathing, on a subconscious level anyway). It is worth noting that despite its influences this is as much Western as Eastern music, there is no affectation in their adoption of various forms.
Although as mentioned there are serious constraints on the instrumentation, the pace and tone vary widely from tune to tune. For example, "Invocation," which includes recitation of part of the mantra devoted to Patanjali (familiar to Ashtanga and Iyengar practitioners), comes across as gentle, almost melancholy. "Between Heaven and Earth" showcases harmonic overtones. "Transformation" features a soothing melody and would be perfect for cool-down toward Savasana. "Swimming In The Eyes of Desire" offers waves of swirling, lulling sound. On the other hand, "The Mani Wheel" and "Opening The Compassionate Heart" ramp it up to a surprisingly forceful fervency. Lastly, the tune with Krishna Das, "My Foolish Heart," continues the collaborative explorations. It's interesting how Krishna Das changes the mix and effect.
All in all, well worth the listening, and listening is key, on this journey toward what some call bliss.
Purchase record here; visit Baird Hersey's website here and the Prana website here.
Ivan is the Founder/Editor-in-Chief of YTM.