Printer-friendly version
Ivan Nahem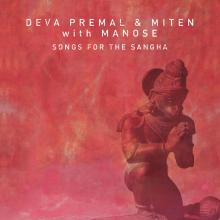 Songs for the Sangha by Deva Premal & Mitten with Manose, released last week on White Swan Records, is a collection of mantras and anthems put to music. "Translated from Sanskrit, sangha means spiritual family," says Miten, "and that's how we see this album. It's an offering, a celebration, a shout-out to our brothers and sisters around the world. Many cultures, many traditions—all are welcome here, in the music."
Sometimes merging two very disparate currents, comprised each of so many strands, is too much, the imbalanced energy bursts into shards. But sometimes it works powerfully, coalescing like heated glass, and gathers strength, shape and visibility.
This music is like a highwire balancing act, effortlessly merging West and East, never looking down. The two cultures have been reaching for each other for some time in so many dimensions (and putting it into our context here, yoga has been in the forefront of this sort of stylistic merge in a very deliberate, brilliantly unstoppable manner). In terms of music one can cite quite a few innovators, coalescers; I would call down, coming from the Indian side, producer Talvin Singh, and slide guitarist Debashish Battacharya; from the Western side Krishna Das and these here guys, Deva and Miten. One can only wonder at the vigorous manner these musicians have taken such diverse traditions and brought them into a single-threaded steel-strong synthesis.
Deva is German. It makes sense. She's grounded, confident, she inhabits each syllable she sings. There is a long tradition of female Indian singing; this is not what she does, but what she does is bring a musical Western sensibility into an easterly direction without pretention, with reverence, with gentle, intuitive singing.
Her partner is the musician formerly known (mostly in the UK) as Andy Desmond, now called MIten. In the video of the band making this album which I heartily recommend, Miten comes across as a terribly nice hippie sort of older guy. My generation. Sometimes his singing is spot on; sometimes, at least for this ex-punk rocker, it is just a wee bit too AOR, too lite. But altogether he's a good presence, he has soul, he's real.
Manose's bansuri (bamboo flute) playing underpins many tracks. He's the irrepressible sort, and his playing is both ubiquitous and unobtrusive. He also adds vocs and ‒ WAIT FOR IT ‒ ukulele!
But I must reserve some of the heartiest accolades for the two other main guys, Joby Baker, producer, bass player, drummer, and Spencer Cozens, keyboards, because they contribute a lot in terms of making this groundbreaking stuff. They help bring on latter day 70's, LA session vibes, sometimes smooth, at times just easefully groovin' out, which actually works in this context of mantra much more than one would think.
Sangha is a lovely concept, that there can be virtual enclaves of like-minded people. These songs certainly bolster that reality. (And their sangha fanbase is large: the album is already Number 1 on the iTunes World Music Charts in the USA, Germany, Canada, Australia, New Zealand, Switzerland, Belgium, Spain and Denmark. Number 2 in Austria and Sweden. Number 3 in the UK. Myself I've got 'Sarveshaam Mantra' on my class playlist and when it has come on, I've thought, this is good, this is very good, this works. Bravo!
Ivan is the founder/editor of Yoga Teacher Magazine.