Printer-friendly version
Jessica Rienecker (TallGirl Yogi)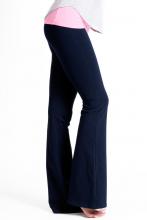 TallWater yoga was founded by long-legged sisters Lynn and Kate who are both over six feet tall.
Clothing companies size their clothing to the average size of their target demographic. This means that women's clothing is traditionally intended for a 5'4" frame. When "long" styles of pants are made, the average sized cut usually just has a few inches of material added on the bottom. This does not account for different proportions in the waist, arms, or torso, creating a strange and uneven fit for most tall women.
I received the Brooke II yoga pants in navy. These flared-bottom pants touched the floor when I was barefoot, and even passed the test when I put on sneakers. There is certainly attention to detail, with the added pouch just inside the back of the waistband for keys and ID.
I got a kick out of the product description:
These yoga pants have a long and lovely 37.5-inch inseam, so you'll look like you're on your way to a workout, not running from a flood. The rise, run, and waistband are designed to keep your business covered during downward dogs because we believe inner peace is easier to achieve when you don't have to yank up your yoga pants every ten seconds. Can we get a Namaste?
Designed for a taller body, these pants come comfortably to the waist unlike most other pants that literally fall short. I wore them for a yoga class and an hour on the elliptical and was delighted that they were long enough to look like they were made for me! But not so long that they dragged on the floor or hindered my practice.
You can find their yoga pants and more at www.tallwaterjeans.com

Jessica Rienecker has been practicing yoga since 2009, and teaching since 2013 in Orange County, California. She focuses on intro level classes to help make yoga accessible to all fitness levels and body types.You can follow her on facebook at www.facebook.com/TallGirlYogi or her blog at www.tallgirlyogi.com. Jessica is Project Manager at Yoga Teacher Magazine.