Printer-friendly version
by Jenny Zenner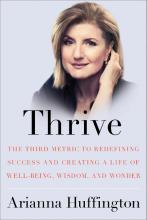 Arianna Huffington's new book Thrive: The Third Metric to Redefining Success and Creating a Life of Well-Being, Wisdom, and Wonder constructs its foundation on an impressive bibliography of philosophers, research scientists, spiritual luminaries, and business leaders espousing purpose and meaning beyond power and wealth. Rumi, William James, Marcus Aurelius, Thoreau, T.S. Eliot, Einstein, Seneca, Viktor Frankl, Aristotle, Walt Whitman, Thomas Merton, Joan Halifax...Worth the read alone for the compilation of quotes, the book inspired me to revisit some titles gathering dust on my shelf and finally purchase some classics long languishing on my to-read list.
In Thrive, Huffington urges us to focus on our eulogies versus our resumes. (As a recruiter who reads countless resumes, I concur. I actually do want to know what your personal interests are at the bottom of the page.) Huffington inquires if we have ever been to a funeral where the deceased was extolled for their ability to put together stellar PowerPoint presentations or work every weekend. Her humor carries the reader through earnest topics of leaving a legacy and mortality.
We learn of Huffington's upbringing that blended the Greek philosophers and mythology with eastern practices of meditation and yoga. We hear how she strayed from the practices, only to find herself passed out bleeding from the head, under-rested and over-stressed. Taking the wakeup call, Huffington penned Thrive to invite readers to unplug from our devices and connect with each other.
We get a who's who of celebrities and CEO's who meditate and inspiring stories of everyday people making a difference. Heavy on name dropping, alas the work is light on practice. Huffington closes each section with a brief list of activities to try: get enough sleep, take a walk, do yoga, meditate, practice gratitude. Admittedly the memoir and self-help junkie in me wanted more introspection and instruction along with the copious evidence and inspiration.
Maybe it's from her perspective as a publisher. Does Huffington want us to get a mere taste of meditation, yoga, and insight so we purchase the literary tomes she cites to go deeper? If so, I certainly fell for it based on my latest Kindle invoice.
NOTE: THRIVE JACKET PHOTO BY CARLOS SERRAO

Jenny Zenner founded Seeds Yoga www.seedsyoga.com, a guide to grow your life. Based in Seattle, WA, she's a former addictions counselor turned yoga teacher, career coach, and writer, being mindful in as many moments as she can muster as a mom to toddler twin boys.