Submitted by Teresa Diaz on

Printer-friendly version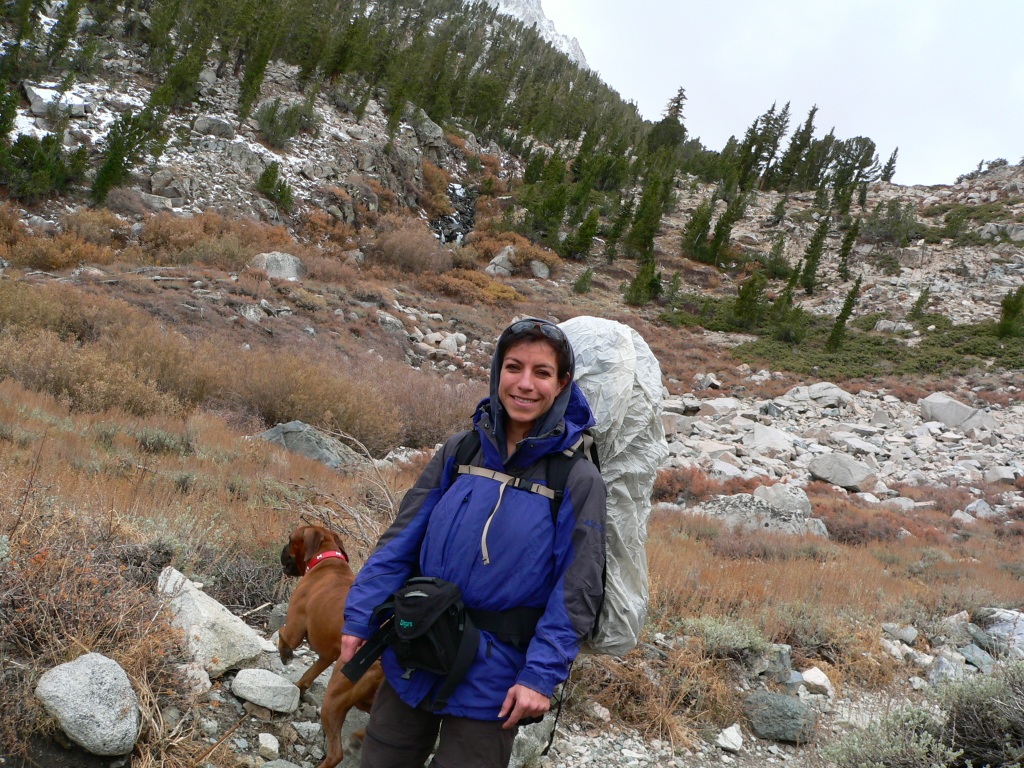 Bull Frog Lake Hike, Kings Canyon, CA 2008
The time had come to take a break from the whole and concentrate on the Self.  I have been itching for my annual solo-backpacking trip for a while. My head was spinning with the mundane, and my heart was burdened with a longing for sweet nature, nature and more nature.
My first solo-backpacking trip came about ten years ago after I had separated from my husband – a very short and beautiful marriage with someone whom I considered then my best friend. I was in a very lost place and knew the only remedy would be to fix my troubled mind and find out what was happening alone.I knew something about camping and nature. I was proud to have the experience of car camping as a young child every summer through Mexico and the US with my family on our way to my Abuelita Generosa's in St. Louis, Mo.
In addition, twelve years ago, my husband and I had camped throughout our first cross-country trip to California to pursue my first serious job in a museum, and so I had become familiar with pitching a tent, cooking elaborate meals by the fire, and packing a car. But I knew nothing about backpacking.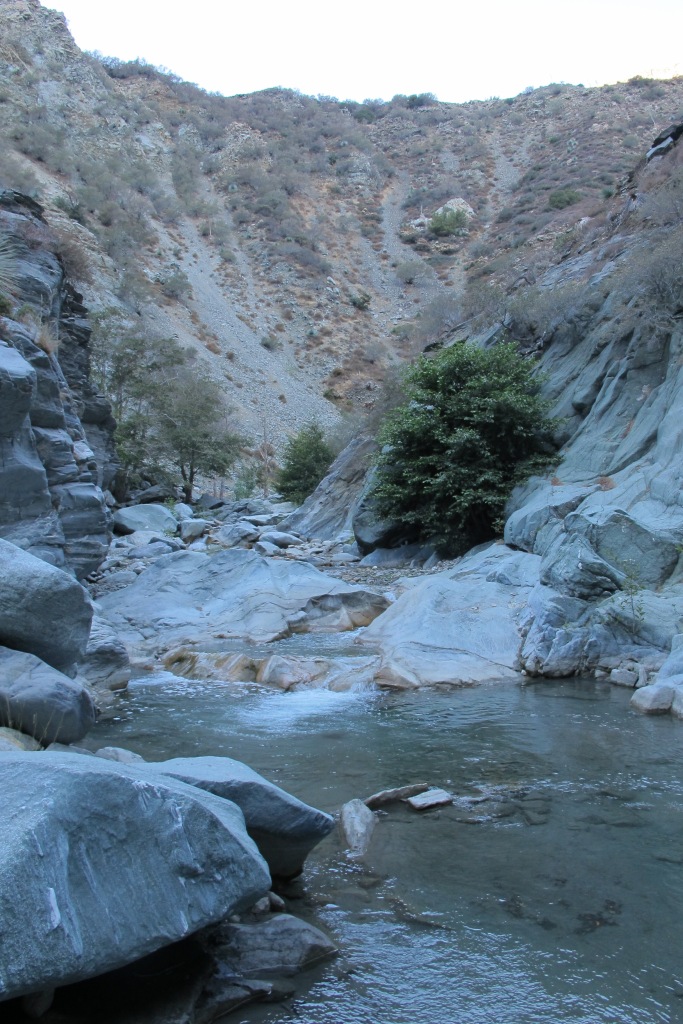 East Fork to Bridge to Nowhere, Angelenos Forest, CA. 2013
My husband and I had been gifted camping equipment as a wedding present, which had remained unused and still neatly packed in the move boxes.  Researching how to backpack was something for the 21st Century, so, I made the decision to pack it all, axe and shovel included, and rented a car for four days to head for the unknown. It seemed so easy –packing stuff I might use, emergency stuff, and stuff I needed for sure. I bought a trail guide and map to the Central Shenandoah Mountains, and off I went after work.
My trip turned out a very scary but invigorating one : a 100 lb backpack, tripping, falling, wild animals and bugs, encountering male hikers, crossing thigh deep white waters, and for the finale, a surprise thunder storm just two miles from the end of the 17 mile trail, where I was forced to improvise a shelter on the very narrow trail and ended up sleeping on what seemed like a mud stream until morning. I experienced it all – fear and joy ─ and it taught me better than to pack a 100 lb backpack! Backpacking alone became essential to my sanity and something to look forward to every year.
After a long year of waiting, I decided to leave for my annual trip after my Saturday class and take off for a three day adventure to the wild. I spent the evening doing a bit of research to find a nice 12-18 mile hike with lots of water resources for my new companion, a boxer-lady (let's call her CH, I'll explain it some other time) who requires drinking lots of water every 20 minutes; I know, a bit annoying for this hot, dry, California weather. I found a great trail in the San Gabriel Mountains – a luscious meandering gorge created by steep canyons that had given birth to a beautiful creek that gave life to mountain laurels, oaks, wild mulberry trees and all kinds of birds and creatures.
I packed the stuff I had been collecting specifically for this occasion into my backpack, including a nylon hammock, bear mace for those emergencies, and my journal, among other things – no books, no music, nothing to distract me from doing nothing. My excitement was driving me crazy just thinking about the chance to splash around like a kid in crystal clear waterholes ─ nature's gift, to sunbathe al-fresco like a lizard on a nice boulder away from "civilization," and to prepare cowboy coffee with my Whisper Light camp stove.
The adventure started after a short two hour drive to the trail head. I was glad that my gear was lighter than usual and that my dog wore her booties without complaining too much. It was hot and dry as expected, and I gave myself three to four hours to hike before finding a nice camping spot along the water. Among the casual hikers, the loud college retreaters, the elated bungee jumpers, the menacing gold-panners, the relentless trickle of nutrition bar wrappers and empty water bottles, the tagging, and the unnecessary excess of trails, I was able to find a merciful solace in this overwhelming environment. The tranquility of the air, the sound of my footsteps, the swooshing of the brush on my bare legs, the occasional chirp, and the sound of rushing water was all I allowed in my head. I finished the hard work of the day by dipping my tired body into the fresh creek under the shade of a tree-lined nave and cooked my dinner happily while the night crept along.
On the second day, we were visited by a herd of long-horned sheep. Surprised at our presence, they ran into the cliff-side for safety.  While the moms and dads stared at CH and I for a long while, the baby sheep suckled and pranced around the adult guard in the steep terrain –oblivious to our presence. Finally realizing we were not a threat, the band climbed down to refresh themselves in the creek with us; nothing more spectacular than watching these wild creatures a few yards away! Even though I was alone, I felt strangely accompanied.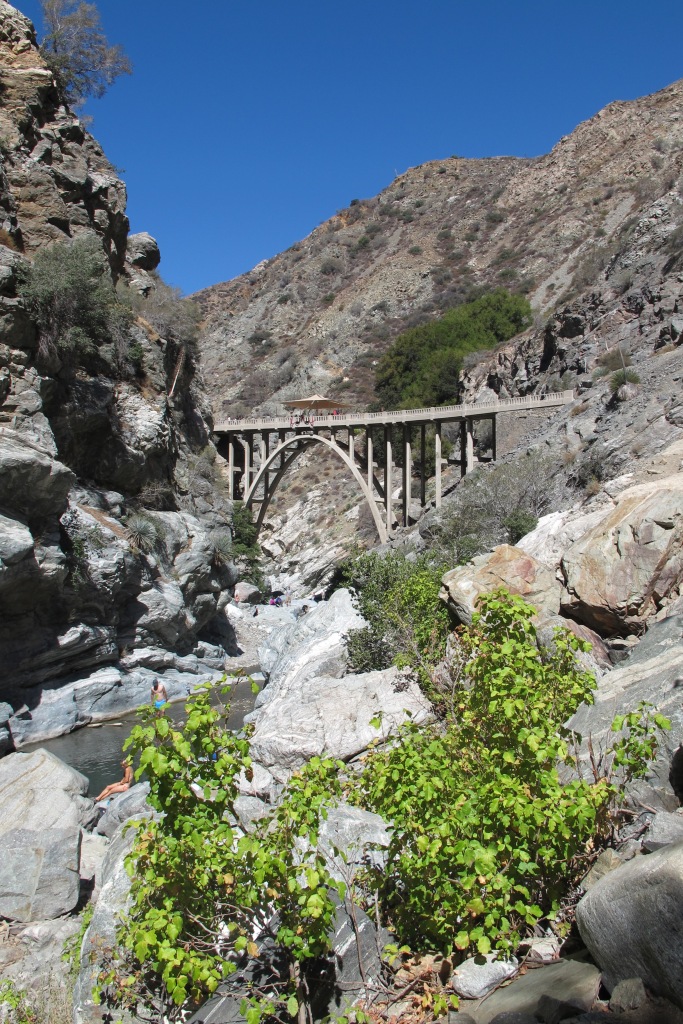 East Fork to Bridge to Nowhere, Angelenos Forest, CA. 2013
Being alone in nature is one of the most invigorating and primordial experiences  any one can have.The struggles with quieting one's mind, the challenges and limitations of one's body, the inner conflicts with the urge to control everything; they all put you back in touch with who you are. You are forced to dig deep to calm your fears and anxieties, and let your breath take in the love of God that  Illuminates your path. You direct your energies into positive ones and begin to admire every little detail in your course which awakens the awareness of your raison d'être –your underlying purpose. I now felt I could return to a better me.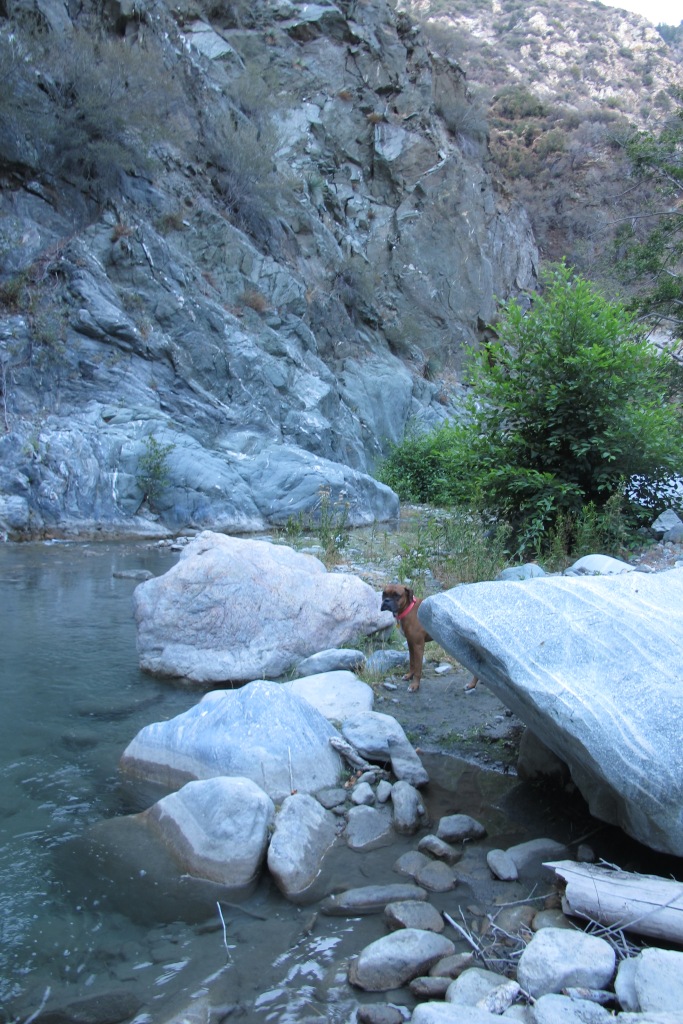 East Fork to Bridge to Nowhere, Angelenos Forest, CA. 2013
This experience reminds me of Book Four, Portion on Absoluteness, Sutra 3 of the Yoga Sutras of Patanjali: NIMITTAM APRAYOJAKAM PRAKRTINAM VARANABHEDAS TU TATAH KSETRIKAVAT, translated by Sri Swami Satchidananda as "Incidental events do not directly cause natural evolution; they just remove the obstacles as a farmer [removes the obstacles in a water course running to his field]."
In our everyday life, we must allow nature or God to remove the obstacles that impede us from finding happiness and love within ourselves. Being receptive to all circumstance removes fear and makes us stronger and able to learn more about ourselves. Our natural shield is trust; we should trust our path, trust our heart and trust God to lend us experiences which we can learn from. As a woman, I find it necessary to be comfortable in my own skin; to develop faith in myself and consider myself a best-friend. I wish this on every woman and man out there. Opening yourself to your you and allowing God to be your light is the most enriching and fulfilling gift you can ever gift yourself.
I hope you take this  story with you, and I wish for you a fulfilling experience on your own backpacking trip!