Printer-friendly version
Jessica Rienecker (TallGirl Yogi)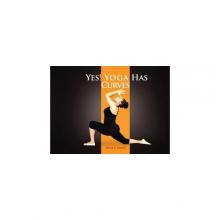 I had the utmost pleasure of meeting Dana Smith just before she participated in a panel discussion at the Yoga Journal Live conference in San Diego. The discussion involved Melanie Klein (a professor in sociology and women's studies at Santa Monica College), Dana Smith, Brigitte Kouba (aka Gigi Yogini, yoga instructor and co-founder of the Yoga + Body Image Coalition), Rachel Acheson (Vice President of Brand and Community at lululemon athletica), Dianne Bondy (founder of body-positive online yoga studio Yogasteya.com), and Carin Gorrell (editor in chief of YogaJournal Magazine), creating a platform for discussion on a prominent topic.
"Yes! Yoga Has Curves" is a beautiful portrayal of the diversity within yoga. Not only are there stunning photographs of women of all shapes, sizes, colors and backgrounds, but the accompanying stories are compelling illustrations of what brought these women to their yoga mats.
The cover features Dana, a curvy African American woman who has struggled with stress management throughout her life. The following pages paint the picture of whom she encountered that inspired her to compile the book. The book is informative in that it shows accurate portrayals of poses and their variations, but each features a visual and literary story that makes the poses seem achievable.
As a yoga teacher, I often hear "I should do yoga, but I am not flexible". Replace "flexible" with a variety of other words and you will find that many people talk themselves out of the practice before they even get to the mat. Dana Smith visually debunks all the myths about yoga practitioners and creates a space in which any female reader can picture themselves in the book. Each passage starts with a quote (yogini's choice) and gives a backstory on their yoga practice. In their own words, they then describe why they like the pose in the featured photograph, what the starting quote means to them, and they finish by proclaiming what they love about their curves.
The final statement for each yogini is so powerful because they all express love and empowerment by accepting their bodies as they are. In the media today, yoga practitioners are often akin to other fitness models: slim, toned, and Caucasian. For any woman who find these un-relatable, unrealistic, or un-inclusive, Dana Smith is opening up the doors for you to find yoga amongst women of all backgrounds. Not a single picture looks Photoshopped or altered, so you see these beautiful and strong women just as they are meant to be.
Cancer survivors, new mothers, grandmothers, newbies and teachers fill these pages. And yes: larger women can teach yoga. Credits in the back of the book reference past interviewees of Yoga Teacher Magazine such as Anna Guest-Jelley of Curvy Yoga and other such teachers who provide classes and teacher training to accommodate curvier bodies.
This book would be a great way to introduce someone to the many faces of yoga. As a teacher myself, I think it might also make a great supplemental read for teacher trainees to remind them that their classes will be filled with a variety of students and needs.
You can purchase "Yes! Yoga Has Curves" at www.spiritualessenceyoga.com. The second edition is a work in progress, and we hope it includes men as well!
Jessica Rienecker has been practicing yoga since 2009, and teaching since 2013 in Orange County, California. She focuses on intro level classes to help make yoga accessible to all fitness levels and body types.You can follow her on facebook at www.facebook.com/TallGirlYogi or her blog at www.tallgirlyogi.com. Jessica is Project Manager at Yoga Teacher Magazine.