Printer-friendly version
Reviewed by Ivan Nahem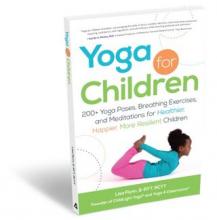 Lisa Flynn's Yoga for Children is a how-to book for parents interested in doing yoga with their children. Maybe it's more than just how, there's whys and wherefores as well. Now one might think from the title that its audience would at least include teachers, but that's for another day; although there are suggested group activities, the classroom is not the focus, and actually that's refreshing. If you have a child in your care and you want to do some intelligent yoga together, this book is a real find.
The story begins where it should, making sure we're on the same pages with regard to yoga history, myths and misconceptions about yoga, the benefits of practicing, etc. There is a useful chapter concentrating on the characteristics of different age groups, what behaviors to expect and what general guidelines work for various stages. She also provides "Yoga Principles," loosely based on Patanjali's version of the yamas and niyamas.
One also respects the fact that the author precedes the asana section with chapters on creative meditation and pranayama. There follows over a hundred pages of alphabetized poses, all modified for kids, with specific instructions for the various age groups. And it doesn't end there. Songs, chants, visualization, even tips for sequencing and some innovative sequences for diverse situations – it's all here.
The book is not without minor flaws. Especially in the passages on the "Yoga Principles" Flynn gets a bit goody-goody and preachy, a strategy that can backfire with kids as they mature. She promulgates the old school convention that "yoga" as we know it is five thousand years old (only in a very, very loose sense is this true, and that fact should be noted). She is given to hyperbolic generalizations: "Everybody loves obstacle courses!" No, in fact, not everyone does. And at times the tone is so upbeat that it feels like there wouldn't be much accommodation for the concerns of troubled youth, where yoga is often most desperately needed.
But these are nitpicks, really. If you interact with kids and are inspired to introduce them to yoga and guide them with wit, fun and wisdom, this book will be an invaluable resource for you. One more thing: the book design is superb, nicely layered, featuring what should be featured, easy on the eyes.
You can explore the book further on Amazon here and Lisa Flynn's blog is here.

Ivan Is Founder/Editor of Yoga Teacher Magazine.