Printer-friendly version
Jessica Rienecker (TallGirl Yogi)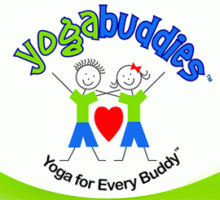 YogaBuddies is a yoga program for kids that includes three bedtime stories. The stories incorporate yoga poses and weave curious tales for children under 13. The DVD lets you view each story separately, and includes carefully-selected music. Parents will love that they can pop in the DVD and let their kids unwind, but also have the option to participate in the poses with their children.
Creator Danay DiVirgilio reads aloud to children of different age groups, giving instructions on kid-friendly modifications to poses that have animal names. The 40-minute compilation works on listening skills, flexibility, and managing emotions. It even introduces concepts such as meditation through ways that are accessible to younger minds (such as imagining and focusing on nature scenes with eyes closed). Yoga fundamentals such as non-competition and listening to your body for signals of comfort or discomfort are also woven into the movements. The DVD is presented as bedtime stories, but I feel they could be used at any time of day to encourage calmness and focus.
The YogaBuddies program has expanded beyond a DVD and they now offer trainings in California for teachers and daycare providers to incorporate children's yoga into everyday life. Adults often preach the benefits of yoga on both mental and physical levels, but YogaBuddies is a great way to introduce these important concepts to a younger age group in ways that they can absorb and understand. For more information on the DVD, training program, or kids' classes through licensed YogaBuddies teachers, visit www.yogabuddies.com/
Jessica Rienecker has been practicing yoga since 2009, and teaching since 2013 in Orange County, California. She focuses on intro level classes to help make yoga accessible to all fitness levels and body types.You can follow her on facebook at www.facebook.com/TallGirlYogi or her blog at www.tallgirlyogi.com. Jessica is Project Manager at Yoga Teacher Magazine.