Printer-friendly version
Jessica (TallGirlYogi)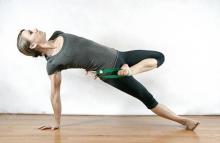 Mama Kuka is based in North Carolina and gets its name from the Incan Goddess of health and joy. The company is known for its Yoga Sphere strap system which is their response to the traditional yoga strap or belt. The Yogo Pro Kit comes with four different colors of strap (two of each) that have varying circumferences. All eight straps fit in a small travel bag that was small enough to fit in the small outer pouch of a gym bag or my yoga mat bag with ease.
The straps have no buckles or uneven surfaces which means no pinching from a buckle when using the straps to keep your arms hugged in during arm balances. Utthita Hasta Padangustasana is often a challenge for me with a traditional yoga belt. During a long hold, the strength of my arms is necessary to keep my leg from dropping down and having a loop-shaped strap provides a better and longer hold as there is no loose end to slip out of my hand. I also found the loops to be a little easier to manage during the normal flow of class since they don't have excess material that will get tangled. I tried the loops in a flow that consisted of moving back and forth from warrior two into extended side angle pose with a bind and could hold the strap the entire time without it trying to lasso my legs.
The company donates a portion of its proceeds to the Give Back Yoga Foundation, which helps certified yoga teachers share yoga therapy with veterans suffering from PTSD, at-risk youth, prisoners and more. You can purchase them online at 
http://www.mama-kuka.com/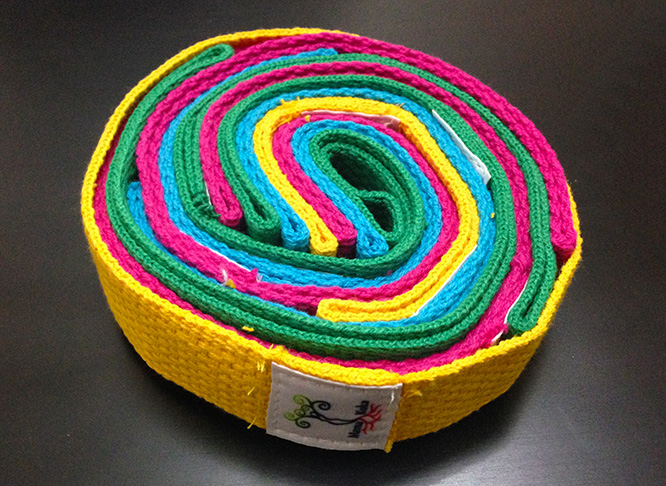 Jessica Rienecker has been practicing yoga since 2009, and teaching since 2013 in Orange County, California. She focuses on intro level classes to help make yoga accessible to all fitness levels and body types.You can follow her on facebook at www.facebook.com/TallGirlYogi or her blog at www.tallgirlyogi.com. Jessica is Project Manager at Yoga Teacher Magazine.