Printer-friendly version
TallGirl Yogi (Jessica Rienecker)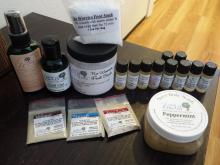 Christine Frazzitta is the founder of "Zeeta" body products. I had the opportunity to meet Christine when she taught a workshop at the South Bay Yoga Conference in Los Angeles a few years ago. She combined delicious scents from oils and sprays with yoga poses that paired with each chakra we were targeting. She teaches AromaYoga in Las Vegas, using the oils in her Zeeta line.
She sent me a tremendous sampling of items which include: face masks in "Volcanic", "French", and "Extra Early", "Seriously Citrus" aromatherapy spray, "No Worries" foot soak salts, "Sweet Body Scrub" in Peppermint, and a variety of body oils that include "Chill Out", Eucalyptus, Lavendar, and more. All of her products are 100% vegan, hand-crafted, and naturally plant-based.
I first tried the "Volcanic" mask, because I was intrigued by the ashy packet of dark powder. This tiny, powerful packet has Bentonite clay in it and felt like silk when I mixed it with water. It had an earthy smell, like a campfire, and left my skin feeling clean but not at all dry like some masks I have used before.
The "Seriously Citrus" aromatherapy spray immediately came to the office with me. I spray it in the morning to create a long-lasting scent and will also spray it in front of the fan when it's a warm day. The scent is a combination of orange and grapefruit. This is definitely an energizing scent to have around!
I teach outdoor yoga classes, and my feet definitely tell the tale. I often find that my feet are dry and embedded with all sorts of earth's treasures from walking around. The "No Worries" foot soak is a combination of Epson salt, peppermint, and tea tree oil so I got much softer sole along with a great scent. I would also recommend this salt to any yogis that are also runners, as this is a great way to relieve your feet after they've been working hard. I definitely love the scent of peppermint, so I was excited that there was a peppermint body scrub as well. I used this on my elbows and knees, and the scent was so refreshing!
The body oils are where I really went to town. These little sample-sized oils came in so many different scents that I could go a whole week without having to use the same one twice. The oils come in both a larger pump bottle, or a smaller lotion-like dispenser. I prefer to use the oils before I start my yoga practice by dabbing some behind my ears and in the creases of my elbows (these are areas where they will absorb quicker).  Scents like "Chill Out" have peppermint that will ward off bugs (a must-have for outdoor yoga festivals), while "Eucalyptus" will help ease asthma and allergies (you could also use this to clean/disinfect your yoga mat).
You can find Christine at a variety of yoga/wellness festivals throughout the year, or online at www.zeetabody.com for more information and her full product line.

Jessica Rienecker has been practicing yoga since 2009, and teaching since 2013 in Orange County, California. She focuses on intro level classes to help make yoga accessible to all fitness levels and body types.You can follow her on facebook at www.facebook.com/TallGirlYogi or her blog at www.tallgirlyogi.com. Jessica is Project Manager at Yoga Teacher Magazine.