Where and when do you teach?
> Breathe Yoga @ 5pm Sundays
> Yoga Belly Mountain View @ 4:15pm Mondays, 7:15am Saturdays
> Yoga Belly San Jose @ 7:05pm Mondays, 5:30pm Wednesdays
> Menlo Pilates & Yoga @ 6pm Tuesdays
> Equinox Palo Alto @ 5pm Thursdays
> Pacific TherX – subbing only
> Los Gatos JCC @ 7:30am Mondays, 6:00pm Tuesdays
> Corporate clients: LinkedIn - Mountain View campus, Varian - Palo Alto campus & Milpitas campus, Synaptics – San Jose,
> Various privates
> Adding Blue Iris studio Palo Alto within 1 month
> SUP yoga at various locations
Where/with whom have you trained for yoga teaching?
> Mark Stephens - Santa Cruz Yoga,
> Jennifer Prugh - Breathe Los Gatos,
> Kent Bond & Kyzcy Hawk – Willow Glen Yoga
> Kirsten Johnson – Equinox & AFAA
How would you describe the style(s) of yoga you teach?
Power, vinyasa, SUP yoga, yin, hatha, Ashtanga based, also incorporating tai chi and TajiFit in some yoga classes.
What endeavors other than your yoga practice contribute to your development as a person and yoga teacher?
Tai chi and traveling the world have been big influences in developing as a person.
Tai chi and other martial arts as well as a background in exercise science and working as a personal trainer for 20 years have all been a huge influence in teaching yoga.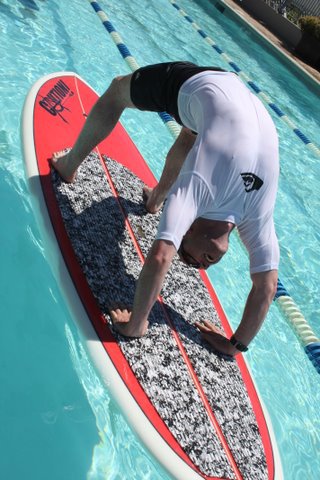 Anything else you'd like readers to know about you?
To date I've been teaching for 12 years. I teach alignment-based classes of all levels with an emphasis on safety. I'll sometimes take traditional poses and give them a twist to keep things interesting all the while using traditional alignment and cuing for safety.