Please share the story of your studio.
We are a vinyasa style yoga studio that was opened in April of 2010. The owners are Betsy Davis and Chrisitne Gatti. Betsy, the yoga director, trained at Laughing Lotus in NYC and was a senior teacher there for 11 years. Upon moving out to New Jersey from NYC, she and her partner decided to open a yoga studio to create a space for the yoga community to explore this awesome, ancient practice from a modern, fun, colorful, music filled environment.  We have been serving the community for almost 4 years!
Would you please describe the style(s) of yoga your studio offers?
Although we have lots of teachers and they all come at this beautiful sacred practice from their own experience and vantage point, we mainly teach vinyasa style yoga, which means to flow and connect to the breath, your vital life force in order to connect with the divine within you!
Describe the environment you offer.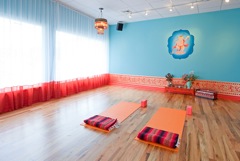 We offer a warm, friendly, joyful environment filled with inspiring color and music with knowledgeable and caring teachers that help facilitate a fun-loving space in which to discover and uncover your true self!
Anything else that is unique about your space?
We offer Basics, Intermediate and Advanced. We have a lot of offerings in the way of workshops, from philosophy and Sanskrit to Ayurveda and Capoeira. Some of our workshops are geared toward advancing your practice and we provide an "Absolute Beginners Series"  twice a year.  We also have a 200 Hour Yoga Alliance certified Teacher training Program called the "Path of Peace" which has been highly respected in the area since it began 3 years ago.