Where and when do you teach?
I teach at The Yoga Way in Morristown NJ on
Thursday evenings and Words Bookstore in Maplewood NJ on Friday afternoons.
Where/with whom have you trained for yoga teaching?
I trained with Jennifer 
Kohl Owner/Director of Lotus Yoga and Lotus in Action Non-Profit 300hr.
Hatha/Vinyasa and 100 hr. Children's Yoga Training. I then trained at
YogaWorks NYC 100 hr. Restorative and Therapeutic Yoga with Jillian Pransky,
and 40hr. Neurological Integrative Pediatric Yoga with Dr. Yana Kofman
owner/director of The Yoga Way in Morristown NJ.
How would you describe the style(s) of yoga you teach?
My teaching is focused on the therapeutic and healing benefits of yoga. So,
my classes are adapted to the individual needs of the students whether the
class is a private or group session.  I am specialized in pediatric yoga for
special needs ranging from mild behavioral disorders to severe autism
spectrum disorders.  Classes are Iyengar inspired with a deep focus on static
positioning, proper alignment, breath, and restoratives intended to regulate
nervous system.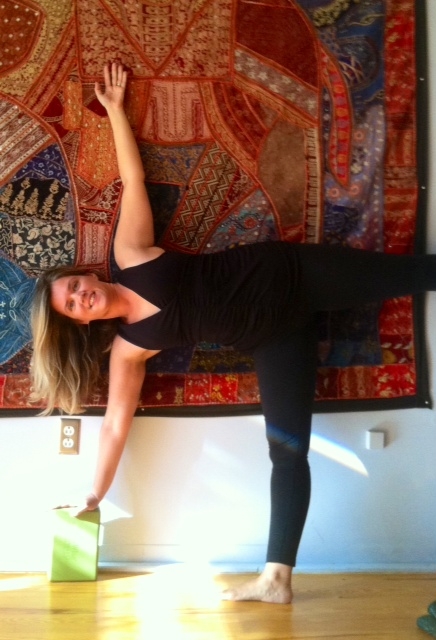 What endeavors other than your yoga practice contribute to your development
as a person and yoga teacher?
As a parent many of my endeavors with my own
child contribute to my development as a person and yoga teacher.  As a
trustee on the board of my daughters cooperative school, I'm part of the
process that ensures the education of the whole child.  I've taught hundreds
of hours of children's yoga in the Newark NJ public school system.  I find
that stepping out of my element and teaching "outside the box" makes me feel
refreshed, alive, and expanded.  I love teaching kids because I can truly
meet them in the moment and teach really organically from the heart.  Yoga
keeps me compassionate and playful as a teacher and person.