Where and when do you teach?
M - Broga® Yoga 6-7am at Reach Yoga
M - Level 2 8am Yogaview
M - Gentle Yoga 6:30 - 7:45pm Yogaview
T - Stretch and Flex 12-1pm at Evolution Yoga -
W - Yoga for Athletes 6 - 7am Winnetka Community House
Th - Level 2 Vinyasa 9:30-10:45am Reach Yoga
F - Yoga for Athletes 6 - 7am Winnetka Community House
Sat - Broga Yoga 7-8:15am at Winnetka Community House
Also several privates.
Where/with whom have you trained for yoga teaching?
I am a 200 hour certified yoga teacher, completing my training through the rigorous Forrest Foundation Teacher Training program. I am registered with Yoga Alliance. I am currently pursuing my 500 hour teacher training program through Prairie Yoga, with additional training and certifications in Therapeutic Yoga and Tantra Yoga. My thesis will be on "The Y Factor" how do we get more men to come to yoga?
I was recently certified as the first Broga®Yoga teacher in Chicago and the North Shore. Broga® (www.Brogayoga.com) is a fitness based yoga program combing traditional exercises such as pushups, squats and mountain climbers with traditional yoga poses. It is geared to guys, but open to all. 
I am also pursuing a nutrition and wellness consultant certification to enhance my yoga offerings. This month I was featured on Athleta's Facebook page for National Yoga month and was recently selected as a PrAna Influencer.
How would you describe the style(s) of yoga you teach?
I teach a style of yoga that is accessible to all.  I focus on flexibility, strength and balance.  I teach a challenging, yet light-hearted class. I teach 4 mornings a week at 6am, so I want to keep my students inspired to keep setting their alarm clock.  I teach a vinyasa style class most of the time. I also teach all levels, including gentle and tweens. I incorporate strength, core and balance in all my classes. I would add that I currently teach many athletes along the North Shore including a high school specific sport class in addition to my Teen Power hour, where I have introduced the Broga® concept and it has been well received.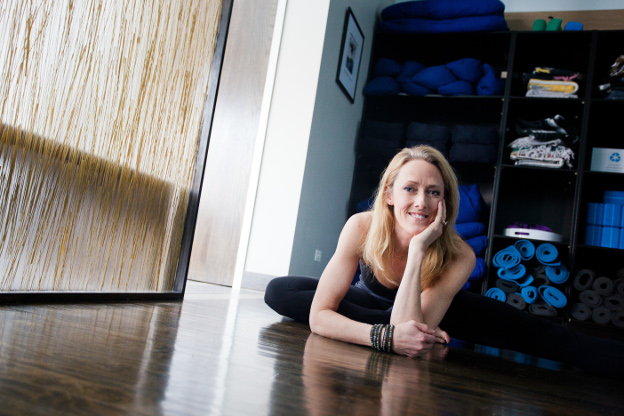 photo by Kyle Murphy KNM Portraits
What endeavors other than your yoga practice contribute to your development as a person and yoga teacher?
In addition to pursuing my 500 hour training, I am chairing the Antiques+Modernism Winnetka show next month  I was co-chair last year  The last two years I have chaired the largest fundraiser for the Winnetka Community House.  I am immersing myself into the training, studying, practicing and preparing for my classes.  I am also working with another yoga teacher to start a yoga program at Lake County Jail.  It's an arduous process.  Last time we tried to get in to complete paperwork and get finger printed, it was on lock-down.  It will definitely be a learning experience.  It's still in the early stages of development. 
Anything else you'd like readers to know about you?
My first reason to do my initial yoga training was to gain knowledge for my daughter, who has scoliosis.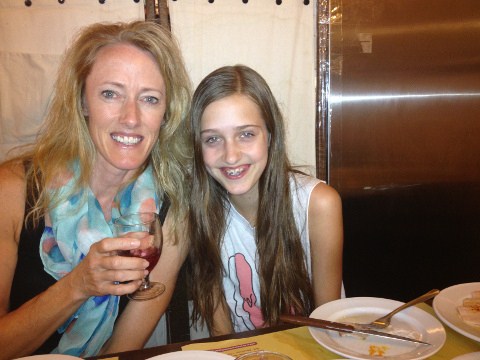 I was hoping that, in addition to the radical PT she was doing, she would consider yoga and I could help.  It went beyond that. Yoga has changed my life for the better. Not only am I stronger, I have a balanced and content life. I know and experience gratitude and kindness daily. I love teaching and sharing this with others, helping them to slow down and live in their bodies. Yoga played a big part in my personal well-being when my 16 year old son suffered a (football) career ending concussion last year. His recovery took 9 months, in which 3 were spent at home, 2 in a dark basement with no visual stimulation. Yoga was my refuge.  The one place where I didn't think about Jake's injury. Yoga kept me sane. I took Jake to gentle yoga where he learned to accept his limitations (at the time) and use his breath to keep relaxed. For me, the lessons of yoga go beyond the mat.
My dream would be to lead a yoga adventure retreat hiking the Inca Trail.