Where and when do you teach?
I teach in Lisle, IL and I teach almost every day! I spend most of my time training others to be yoga teachers. I also teach a lot of private lessons. I just teach one weekly public drop-in class.
Where/with whom have you trained for yoga teaching?
I have over 3,000 hours of extensive yoga study. The list is long and I am always learning more. My primary teachers are Tias Little in Santa Fe, NM, and Gabriel Halpern in Chicago, IL. I have also studied at length with Judith Hanson Lasater in San Francisco, Aadil Palkhivala of Bellevue, WA and Laurie Blakeney in Ann Arbor, MI.
How would you describe the style(s) of yoga you teach?
I am trained in Vinyasa, alignment-based yoga, restorative and therapeutics. My style is very much a mix of all that I have learned, with a heavy emphasis on mindfulness and alignment. I adapt my style to my students' needs.
What endeavors other than your yoga practice contribute to your development as a person and yoga teacher?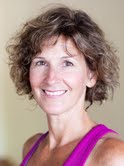 My personal life and relationships have been such a teacher for me. I was fortunate to grow up in a very emotionally healthy family with supportive parents. My family survived a tragedy when I was a teenager and I grew stronger from it. My family has given me such a stable base to grow from. I am also very active in my community and have served as President of the Board of Education for our local school district for the last 7 years, and as a board member for 11 years. From this service, I have learned a lot about leadership, education and delivering a vision that includes others. I use those skills all the time as a leader in my yoga community.
Anything else you'd like readers to know about you?
I taught graphic design before I taught yoga and I was a girl scout leader for many years. I have always loved helping others see their potential. I like to say I lead from below- my job is to lift others up, to give them shoulders of support. It is very rewarding to witness their transformation. I love to garden and bike. I have 2 college-age children and a very supportive husband. I could not do as much as I do without him.