Where and when do you teach?
Sacred Space Studio, 410 Bryant Circle, Suite A, Ojai, California 93023
(Group classes at Sacred Space Studio at 10--11:30 a.m. on Monday and Friday; 8--9:30 a.m. on Saturday)
Private and small group classes in private homes and home studio.
Workshops at various locations.
Where/with whom have you trained for yoga teaching?
Graduate of the Iyengar Yoga Institute in San Francisco
Certified Iyengar Yoga Teacher
Studied with Judith Hanson Lasater, the late Mary Dunn, Felicity Green, Ramanand Patel, Dona Holleman, Toni Montez, Rama Jyoti Vernon, Patricia Sullivan, Bryan Legere, Manouso Manos, the late Diana Clifton, Elise Browning Miller, and many others.
How would you describe the style(s) of yoga you teach?
Iyengar style yoga for all ages and all levels, specializing in yoga for menopause, and yoga for people at midlife and older. Restorative Yoga. Back Care Basics and Yoga for Scoliosis.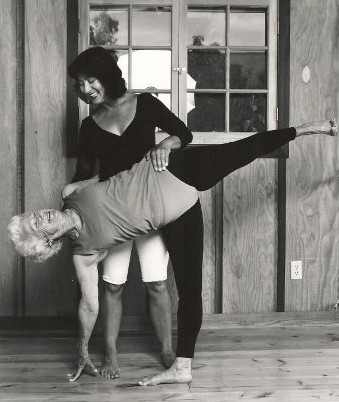 What endeavors other than your yoga practice contribute to your development as a person and yoga teacher?
All my endeavors, including raising children, elder care through the dying process, caring for numerous rescue animals through the stages of their lives, animal activism and animal advocacy, marriages, personal relationships, journal writing and professional writing (author of many books), serving as an elected official and mayor of Ojai . . . bicycle/pedestrian and environmental advocacy. Former owner and director of the Ojai Yoga Center. I cannot think of a single endeavor that has not contributed to my understanding of the human condition and development as a person and yoga teacher.
Social media: