Please relate the history of your studio.
Sandip Chaugule (Sw. Prem Sandip) established this yoga school five years ago in Goa, India.
Would you please describe the style(s) of yoga your studio offers?
We offer Ashtanga, Vinyasa Flow, Power Yoga and Traditional Hatha style of Yoga. Swami Prem Sandip has studied at the following:
1. B.K.S Iyengar Yoga institute in Pune, Maharashtra,India.
2. Rishikesh Capital of Yoga, Himalyaas, India.
3. Sivananda Yoga Vedanta Dhanwantari Ashram, India
Can you please describe the environment you offer?
Our yoga center is situated very near to the beach and surrounded by coconut trees.
The fresh air, especially early in the mornings and evenings, is a gift of a nature which gives our students an enhanced experience of life.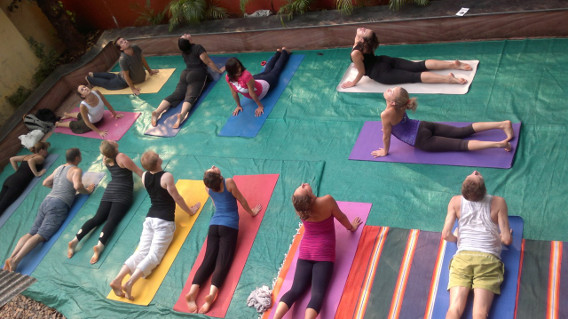 Anything else that is unique about your space?
Every student is taken care of, with love and kindness at our yoga school. All the teachers are very loving and sensitive towards the teaching and they spend a lot of quality time with each student individually, to ensure that the yoga studies are easy for them.