Please share the story of your studio.
The studio was opened in May 2009 by Jason and Ann Kim. Jason is a master teacher of T'ai Chi and various forms of yoga, He has been studying for many years.
Describe the style(s) of yoga your studio offers.
Vinyasa, Hatha, Iyengar, Zen Yoga, Hot Pilates Hot Vinyasa. Teachers come from various styles and traditions, not just Zen Yoga. Regarding Zen Yoga, Jason says it is about using energy, accessing the energy through the meridian lines. There are numerous rather individual postures and movements that are unique to this style which Jason originally learned throughout Asia, incorporating diverse elements from Asian traditions. We also offer workshops with particular themes (e.g. meditation, back care), a 200 hour teacher training program and special healing/therapeutic sessions.
Please describe the environment you offer.
There are two studio rooms. The lower floor room, which can hold 30, has a beautiful floor and both rooms have been made very friendly. The upstairs room is used for hot yoga and could potentially hold 35. There is also a private healing room.
Anything else that is unique about your space?
The first thing to emphasize is that the mission is to help people to heal themselves. Jason says that the objective is to heal people physically and mentally and through this process they become happier and eventually the entire community becomes healthier and happier.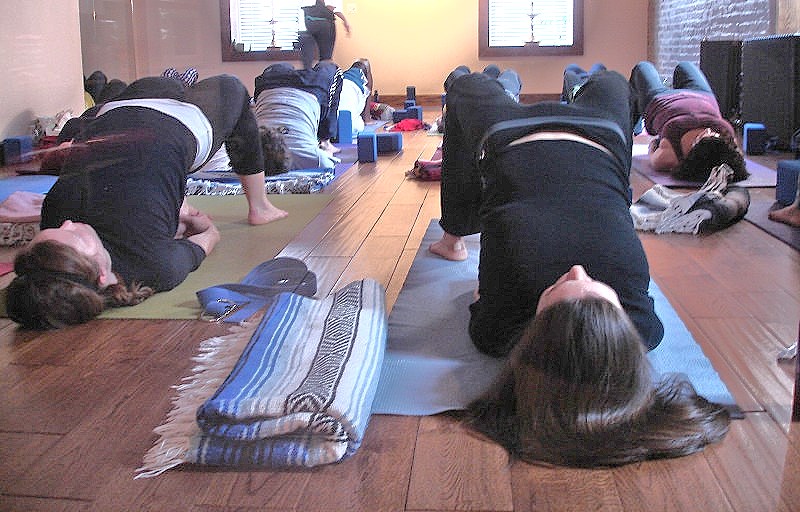 Another aspect is easy access from all around New York City. The studio is one block from express and local trains to and from the city, and Forest Hills is a very diverse and vibrant community in itself.
Zen and Yoga also has wonderful teachers. Many students formerly practiced at the big studios in Manhattan but once they come to Zen and Yoga they are so impressed with the teachers and the friendly environment they have no problem making a commitment here. The teachers are very accepting of any kind of body type -- disabled, limited, older, younger, physically fit, what have you -- and know how to work with people to make them feel welcome and at home. Yoga is for everybody.